Ron Paul's Absence From CPAC Prompts Ron Paul Nation Conspiracy Theories
The campaign says it's a schedule conflict. For Paulites, it's a massive scheme by the Republican establishment to keep the Doctor out.
Ron Paul, last year's CPAC straw poll winner, is not scheduled to speak at the conference this year. The campaign says it's just due to scheduling conflicts, but Paulites are convinced that the Republican establishment has locked arms to keep their leader out of CPAC.
"The exclusion of Paul is likely a maneuver by GOP insiders to re-align CPAC, the biggest annual conservative confab, with the Republican establishment and prevent an embarrassing straw poll defeat for likely presidential pick Mitt Romney, who Paul beat in 2010 and 2011," writes one such conspiracy theorist.
The forums on Daily Paul, one of the largest pro-Paul sites, are receptacles for a lot of anti-CPAC sentiment.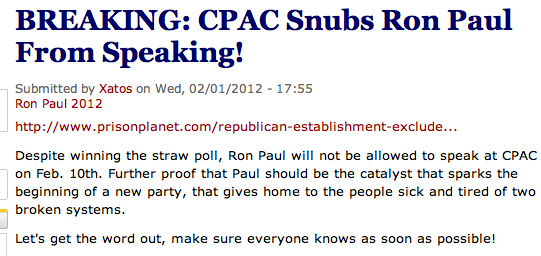 After denial comes anger.
CPAC might not be getting Ron Paul, but they're sure to see his fans. From Ron Paul forums:
CPAC partially overlaps with the Maine caucuses, where the Paul campaign has invested money and resources as part of their plan to pile up delegates in caucus states. And at least one Paul will, in fact, be at the conference: the American Conservative Union announced today that Senator Rand Paul has a speaking slot.
Paul campaign manager Jesse Benton told BuzzFeed that the congressman's absence from CPAC is "just a scheduling thing."