Ron Paul Supporter And "Jesus Person" Explains Why He Can't Vote Romney Or Santorum
Easy choices for some Protestants. Romney and Santorum already ruled out by religion.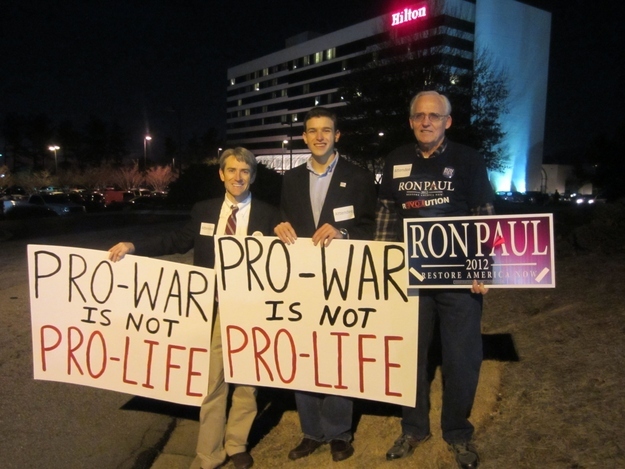 GREENVILLE, S.C. -- Attendees of the Personhood USA forum in Greenville were met by three men waving signs outside the venue last night: "Pro-War is Not Pro-Life."
The men drove up from northeast Georgia for the Personhood forum, where Rick Perry, Rick Santorum, Newt Gingrich, and Ron Paul all spoke. Noticing their buttons and signs, BuzzFeed asked if they were Ron Paul people.
"Well, we're Jesus people," Mike West, 47, an appraiser from Cornelia, GA said. Despite their different ages and situations -- Simon Miller is an 18-year-old home school student, and Lum Petitt, 72, is a retiree -- the three have become friends because of their passion for Ron Paul.
They've chosen Paul not for his ideas on the Fed or Israel, but because "he's a sincere follower of Jesus Christ," West said. "It's very clear in everything he does."
As for the other candidates: Rick Santorum "is a very self-righteous Christian," West said.
"I have a right to a religious test that I can have," he said. "My particular religious test for office is in my opinion, I have to vote for a Christian. For me, I can't vote for a Mormon. To be honest with my God, who I report to, I can't vote for a Mormon, and I can't vote for a Roman Catholic."
That rules out three out of the five remaining candidates.