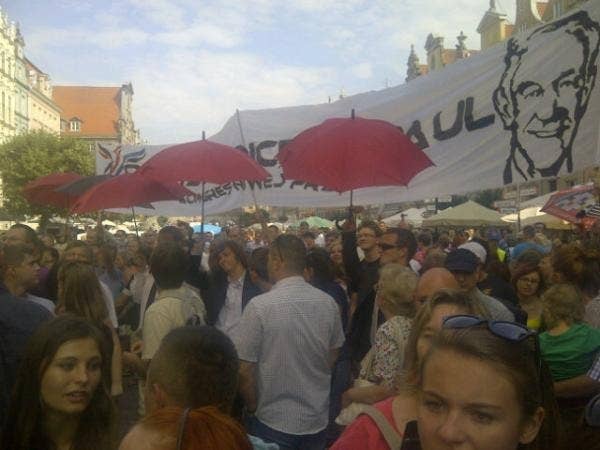 Mitt Romney's public appearance was greeted by Ron Paul supporters today, according to tweets and photos from the scene. This is pretty much the norm these days — but for he fact that today's event was held in Gdansk, Poland.
Poland is one of many countries outside the U.S. that, despite never having Paul on any ballots, have Ron Paul contingents. The main website, RonPaul.pl, includes information about Ron Paul's campaign, primary dates, even the current time in Texas, where Paul is from. The banner: "Kim jest Ron Paul?" ("Who is Ron Paul?")
The group has garnered 2,000 likes on Facebook. Today won't be the last we see of them: tomorrow, when Romney will be in Warsaw, there will be a planned demonstration outside his event.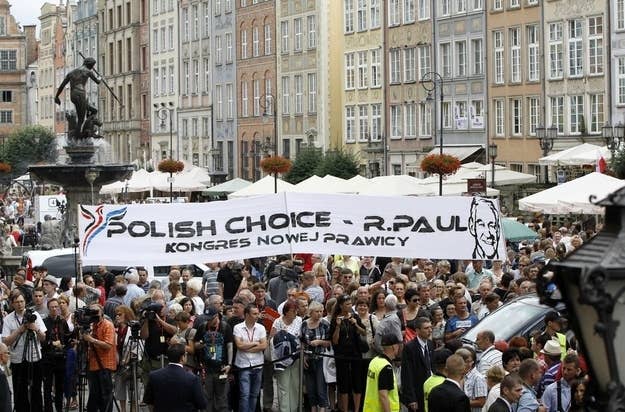 Other international Paulite factions include Germans for Ron Paul, South Africans 4 Ron Paul Revolution, Australians for Ron Paul, France for Ron Paul 2012, and Serbia for Ron Paul.
According to Polish politics reporter Michal Kolanko, the banner was made by supporters of Kongres Nowej Prawicy (Congress of the New Right), which Kolanko described as a "libertarian/right wing party led by eccentric Janusz Korwin-Mikke."
"These guys are extremely vocal on the internet (as ron paul fans) and not that numerous during elections. KNP in the last parliamentary elections (October 2011) got 1,06%," Kolanko said in an email.