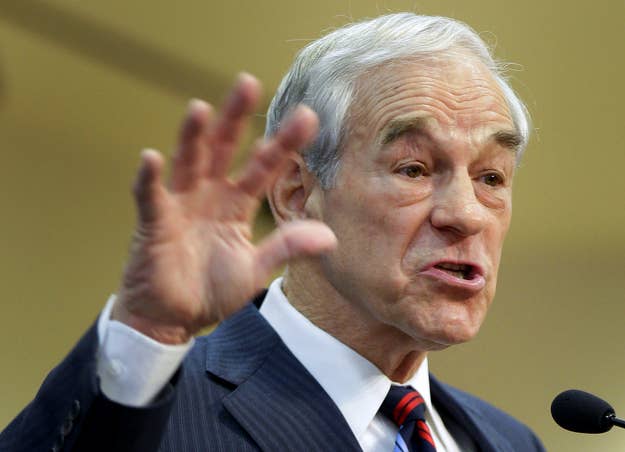 Ron Paul has filed a complaint with the World Intellectual Property Organization against the proprietors of RonPaul.com and RonPaul.org, according to a blog post on their site on Friday.
The authors of RonPaul.com see the move as the ultimate betrayal from a politician who, more than many others, depended on an astounding level of grassroots support on the Internet in order to keep his longshot presidential campaigns running.
"Last month, after Ron Paul expressed regret on the Alex Jones show over not owning RonPaul.com (in an interview titled "Ron Paul: The Internet Is Our Last Chance to Awaken America"), dozens of supporters urged us to contact Ron Paul to work out a deal," the owners of RonPaul.com write.
They say they offered Paul the use of RonPaul.org as a "free gift" but wanted to keep RonPaul.com. Their price, should Paul really want RonPaul.com, was $250,000.
"Claims that we tried to sell Ron Paul "his name" for $250k or even $800k are completely untrue, and there is little doubt that our mailing list would have enabled Ron Paul to raise several million dollars for the liberty movement this year. It would have been a win/win/win situation for everyone involved," they write.
Even more shocking to the proprietors is that Paul's complaint was lodged with a U.N. agency, an organization that garners mistrust among libertarians.
Back in 2007 we put our lives on hold for you, Ron, and we invested close to 10,000 hours of tears, sweat and hard work into this site at great personal sacrifice. We helped raise millions of dollars for you, we spread your message of liberty as far and wide as we possibly could, and we went out of our way to defend you against the unjustified attacks by your opponents. Now that your campaigns are over and you no longer need us, you want to take it all away – and send us off to a UN tribunal?
Copies of Paul's lawyers' complaint and RonPaul.com's offer to Paul can be found here.
A spokesperson for Paul didn't return a request for comment.
h/t @satellitehigh
Update 2/11: Paul's spokesperson passed along a statement from his lawyer, David Warrington, saying that the case is a "private arbitration proceeding, not a UN proceeding":
To address some of the misinformation that has appeared online, the matter between Dr. Paul and the domain name holders of RonPaul.com involves a private arbitration proceeding, not a UN proceeding.

This action is a private international arbitration action filed under the Uniform Domain Name Dispute Resolution Policy ("UDRP"), which was developed and implemented by the Internet Corporation for Assigned Names and Numbers ("ICANN"). ICANN is a non-profit, private organization organized under California law. ICANN has agreements with registrars that issue and maintain domain names to coordinate the stable functioning of the Internet's system of domain names and addresses. One of the main functions of ICANN is to provide a system of dispute resolution to protect the intellectual property rights an individual or business may have in a domain name. The registrars that issue domain names agree to abide by the bylaws of ICANN and the UDRP and follow this procedure.

Under the UDRP, most types of trademark-based domain-name disputes must be resolved by agreement, court action, or arbitration before a registrar will cancel, suspend, or transfer a domain name. Disputes alleged to arise from abusive registrations of domain names (for example, cybersquatting) may be addressed by expedited administrative proceedings that the holder of trademark rights initiates by filing a complaint with an approved dispute-resolution service provider.

The World Intellectual Property Organization (WIPO) is serving here merely as an approved dispute resolution service provider in this private arbitration. The use of WIPO was necessitated because the current domain name owners used an Australian registrar to acquire the domain name. The current RonPaul.com domain name holders subjected themselves to this proceeding in this forum when they registered RonPaul.com with an Australian registrar.