Ron Paul Campaign Will Train Delegates To Behave Themselves
Campaign is working with its delegates on "decorum and respect" for the Republican National Convention. Consequences for Romney, and for Rand.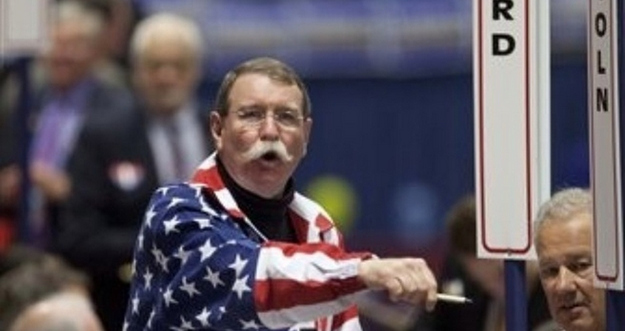 Ron Paul's campaign, concerned about recent state conventions sent into an uproar by its supporters, has made it clear that they'll expect their delegates to behave at the Republican National Convention. Insiders tell BuzzFeed the delegates will be prepared for Tampa with phone calls and training programs.
"The campaign itself obviously will be talking, and eventually even Dr. Paul himself, to the Paul supporters who are going to be in Tampa," said one Republican strategist close to the campaign. "Not only about strategy but also about events that we may have and how this fits into the longer term goals of the movement and of the Republican party."
Paul will have more than 100 bound delegates to the convention in Tampa and hundreds more Paul supporters have won slots as pledged Romney delegates at the convention, forcing them to support Romney — but freeing them to cheer for the libertarian and his cause. Paul supporters at state conventions have gone as far as booing one of Romney's sons, and shouting down elected officials who back his cause, and Republicans fear they could turn what is usually a carefully-staged infomercial into a chaotic zoo.
Paul's campaign, which hopes to give him a platform and to install his son, Rand, as a major figure in the party, aims to restrain his rowdiest supporers. Training the delegates hasn't started yet, though the campaign expects to begin communicating with them later this spring.
"We haven't finalized details of it," the strategist said. "One of the things we've talked about is what kid of training are we going to have, the communications process, who will be the people on the floor. By the middle of June we'll know who the people are who will be in Tampa. We'll have programs in place, conference calls, regular contact with people who are leaders within delegations. We'll have regular communications with them, both electronic and other."
Paul campaign chairman Jesse Benton told reporters on a conference call this afternoon that the campaign expects several hundred bound delegates in Tampa, as well as other delegates bound to Romney who are Paul supporters.
Benton repeatedly emphasized that the delegates will be expected to be "respectful."
"We want people to be respectful," he said. "I sound like a broken record to you
all but we can't emphasize that enough."
Benton alluded to the campaign's plans to help train the delegates, saying "I'm very confident that there will be no problems [in Tampa]. First of all because I think the inherent decency of our supporters, and also because of our commitment and Dr. Paul's commitment to working very hard that doesn't happen."
"I think that they're getting it that they're getting a hyper amount of attention and scrutiny and they'll take the excessive amount of blame if there are any problems," Benton said.
Paul supporters came to blows with Romney supporters at the Oklahoma state convention recently, and Paul supporters at the Arizona convention booed Mitt Romney's son Josh off the stage in another incident.
The campaign knows that its delegates can't behave this way at the national convention if it wants its issues considered for the party platform. "One of the best ways to be respected is to be respectful," the strategist said.
And they won't want to risk the co-operation of the Romney campaign, which they say has agreed to help them promote certain issues dear to Paul's heart at the convention.
Benton said "we have been in contact with Governor Romney's campaign talking about platform issues" and "they have agreed to be helpful in moving forward the dialogue on several of these things," including Federal Reserve accountability and prohibitions on indefinite detention. (A spokeswoman for the Romney campaign did not immediately return a request for comment.)
The campaign also hopes that the process of delegate selection will prep the delegates for the convention on its own.
"Are we concerned? Yes we're concerned," said Paul advisor Doug Wead. "However, the majority of the delegates on floor of the RNC have been through hell to get there and have been smart enough to get their head down, and they will not be disruptive."