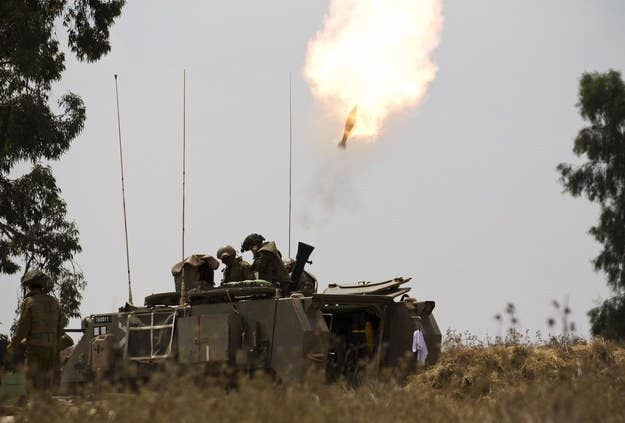 WASHINGTON — Rockets have been found stored in a second United Nations-run school in Gaza, according to the U.N. agency that works with the schools.
"Today, in the course of the regular inspection of its premises, UNRWA discovered rockets hidden in a vacant school in the Gaza Strip," the UNRWA release reads. "As soon as the rockets were discovered, UNRWA staff were withdrawn from the premises, and so we are unable to confirm the precise number of rockets. The school is situated between two other UNRWA schools that currently each accommodate 1,500 internally displaced persons."
Israeli officials began privately expressing concerns about the second school on Tuesday morning. The press release put out by UNRWA does not make clear what the agency plans to do with the rockets that it found: "The Agency immediately informed the relevant parties and is pursuing all possible measures for the removal of the objects in order to preserve the safety and security of the school. UNRWA will launch a comprehensive investigation into the circumstances surrounding this incident," it says.
But the last time this happened, the agency handed over the rockets to the local police, which is believed to be under the control of the militant group Hamas. UNRWA spokesman Chris Gunness told the Daily Beast at the time that the agency had followed U.N. procedure by working with local authorities and that the police fell under the authority of the Palestinian government in Ramallah.
Gunness declined to tell BuzzFeed whether the agency plans to do the same with the rockets this time, saying "I'd rather you take the wording from the press release."
Hamas has launched hundreds of rockets at Israel in the past week of fighting as Israel has launched a large ground offensive in Gaza which has resulted in hundreds of Palestinian civilian deaths. Israeli Ambassador Ron Dermer said on Tuesday that 27 Israelis have died, 25 of whom were soldiers.
"This is the second time in a matter of days that rockets have been found hidden in a U.N. school in Gaza," Israeli Ambassador to the U.S. Ron Dermer told BuzzFeed. "I wonder if the U.N. will once again transfer these rockets to Hamas police? Will the U.N. finally speak out against Hamas turning schools, hospitals, and mosques into weapons depots, rocket firing site,s and military command centers? Will the U.N. finally speak out against Hamas' systematic use of Palestinian civilians as human shields? I wouldn't bet on it."