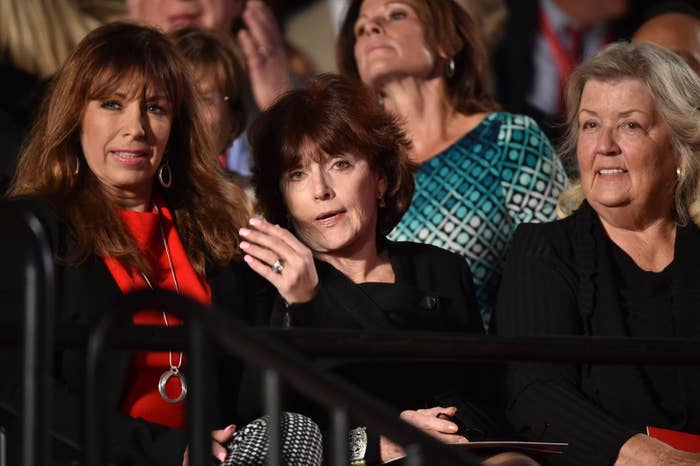 ST. LOUIS — The Republican National Committee was unaware of the Trump campaign's plan to hold a public event with Bill Clinton accusers here and invite them to the debate, its chief strategist said on Sunday.

RNC chief strategist and communications director Sean Spicer told reporters after Sunday night's debate that the RNC had not known about the move to bring the women to St. Louis and to the debate hall.
"I think tonight was about the debate, I think that's where the focus was and I think he did a good job," Spicer said when asked whether he thought Trump had done the right thing in inviting the women.
"I think tonight was about the debate, and that's what the focus was and that's what millions of Americans were tuning in to see and they got a clear winner," Spicer said.
Spicer appeared to downplay the women's presence, saying "the guests were invited, he pointed them out, but that was not what 90 minutes were focused on." Spicer said RNC chairman Reince Priebus had not interacted with the women.
Sunday's debate took place just two days after an explosive tape of Trump boasting about sexual assault and making vulgar comments about women rocked the presidential race, causing many Republicans who had supported Trump to ditch the nominee and even calling in question the support of Trump's own running mate Mike Pence. The RNC itself came as close as they ever have to bailing on Trump, putting out a terse statement from Priebus on Friday — "No woman should ever be described in these terms or talked about in this manner. Ever." — and reportedly shifting funds away from efforts to help his campaign.
Trump signaled before the debate that he would be bringing up Bill Clinton's sex scandals. And shortly before the debate, Trump held a surprise event in St. Louis with Paula Jones, Juanita Broaddrick, Kathy Shelton, and Kathleen Willey. Jones, Broaddrick and Willey have all accused Bill Clinton of sexual misconduct — assault in the cases of Willey and Broaddrick. As a lawyer in Arkansas, Hillary Clinton was the court-appointed attorney for the man who allegedly raped Shelton when she was 12.
Trump's campaign streamed the event on Facebook live, and several campaign officials were in the room.
The women were also in the room during the debate itself. According to the pool report by Bloomberg's Michael Bender, Rudy Giuliani brought Shelton, Willey, and Broaddrick into the debate hall at 7:45 p.m. and Jones came in later. Bender reported that the women applauded Trump for telling Clinton her husband had treated women worse than him.