Rick Santorum's South Carolina Misadventure
Santorum's status as the marquee social conservative wasn't enough in South Carolina. Sanford's diagnosis: "The economy became pre-eminent."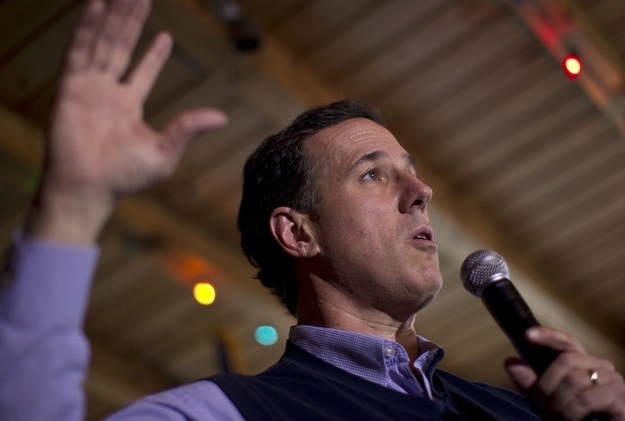 CHARLESTON, S.C. -- Rick Santorum went to South Carolina with what many conservatives view as an exceptionally strong record on social issues, enough money to afford planes instead of trucks, and the good news of a late-breaking Iowa victory.
But he didn't pull off even a second-place finish. Newt Gingrich, a twice-divorced adulterer and a Catholic, won more votes among religious voters, most of them Evangelical Protestants, than Santorum. The former Pennsylvania senators' assets turned into problems in South Carolina – his conservative values no replacement for an economic plan that makes sense to down-on-their-luck South Carolinians, and his win in Iowa too little too late.
Santorum took a hit from the fact that South Carolinians were more focused on the economy this time than they were on the social issues Santorum is famous for battling over, like gay marriage and abortion rights. Former South Carolina governor Mark Sanford appeared on Fox News as the poll results were coming in, saying "I think in many ways, South Carolina was tailor-made for Santorum to do well."
But "the economy became pre-eminent and as a consequence Rick didn't do as well as many folks thought he would have," Sanford said.
He could maybe have benefited from an Iowa win that actually coincided with the time of the Iowa caucuses. His win there wasn't official until earlier this week, too late for the campaign to garner much momentum from the result.
Santorum acknowledged the impact of that late win in an interview with CNN before his speech at the Citadel tonight. "It's always nice to win a clean win," he said. "The whole narrative of Romney would have changed, the narrative of us would have been different."
And he could have benefited from a campaign that successfully made the transition from small mom-and-pop operation to big-time Iowa winner. Despite an influx of money, the campaign never truly got organized in South Carolina, for example leaving reporters in the dust today after some barely-announced schedule changes.
Pressure will now mount from anti-Romney conservatives on Santorum to drop out, and to unite the party's right behind Gingrich. Anticipating that push, Santorum's campaign sent out his Florida schedule right as the South Carolina results came in. (The Santorum campaign didn't respond to a request for comment on this issue). This doesn't rule out his exit, however. Like Rick Perry, Santorum could go to the next state, hang in for a few days, and then give up.
Santorum has some reasons to stay. Momentum has shifted to him once, and it could again. He, Gingrich, and Romney now have one early state each. But he lacks the firepower to induce a Gingrich collapse, and will have to hope either Romney or Gingrich himself can bring it on.
And Santorum himself looks to have no intention of quitting just yet.
"We're not gonna just go to Florida," he told CNN. "We're going out."