Rick Santorum, Mitt Romney's New Best Frenemy
Santorum came out swinging for Romney at a campaign stop in Pennsylvania. But "a little trouble coming out of the gate on health care," he says.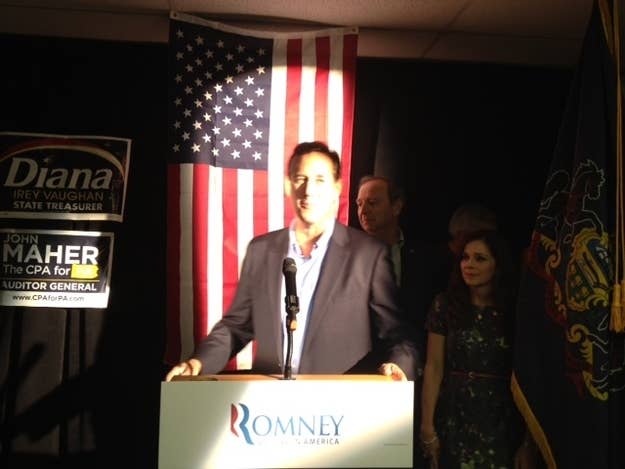 GREENSBURG, Penn. — Former Republican presidential candidate Rick Santorum made his first big stop on the campaign trail for Mitt Romney on Saturday, bringing the same fervor to attacks on President Obama that he did to jibes at Romney himself during the primaries.
The former senator acted as an effective surrogate for Romney at the launch of a campaign office in Greensburg, a town to the east of Pittsburgh (Romney himself will visit the area on Tuesday). But flashes of the old Santorum — off-the-cuff and full of animosity towards the Republican nominee — could be seen.
Santorum spoke for about 15 minutes, sporting a tan and with the top button of his shirt unbuttoned, revealing a few stray chest hairs.
"The Republic is at stake, liberty is at stake," Santorum said, speaking at a podium that said "Romney: Believe in America." "And one man is who we have to put our trust in to go out and fight that battle and win that battle."
Later, Santorum spoke with the handful of reporters at the event, telling them he would "certainly do whatever we can to help Governor Romney."
But he also offered lukewarm praise of Romney's ability to explain his health plan. Asked about all the times he said that Romney was "uniquely unqualified" to be president because of his health care policies in Massachusetts, Santorum said:
"I didn't say that. I said on the issue of health care, he would have trouble, and you know, he's had a little trouble coming out of the gate on this issue. The bottom line is he is far better than Barack Obama on this issue."
"I'll give my advice to him, not to you guys," Santorum said.
On the issue of whether or not Romney should release more of his tax returns, Santorum, who released four years of his own in February, noted that he released more returns than Romney but called the issue a "distraction."
"All of us were called on to release our tax returns," Santorum said. "I released mine, I released more years than he did."
"I think all of this is a distraction," he said. "It's pretty clear from the past that this issue has been vetted over and over. I didn't question Governor Romney's credentials on his career at Bain."
Santorum recently visited Iowa, driving around in the Dodge truck he used for the caucuses and visiting the John Paul II Stem Cell Research Institute, which has named him a spokesman. Reflecting on his experience in Iowa during the primaries, Santorum said "The caucus did exactly what it was intended to do. Which is to give someone who isn't the fair haired boy, doesn't have all the money, isn't the media favorite or whatever, to give someone the opportunity to communicate and to catch fire."
The former candidate denied that any tension lingered between him and Romney, after a primary season that dragged on longer than expected and an endorsement via email that many viewed as half-hearted.
"The media likes to play up this, 'oh, there's all this tension' — no, there's not," he said.
Further campaign events with Romney haven't been announced, though Santorum said he'd be "happy to" appear with the former governor.