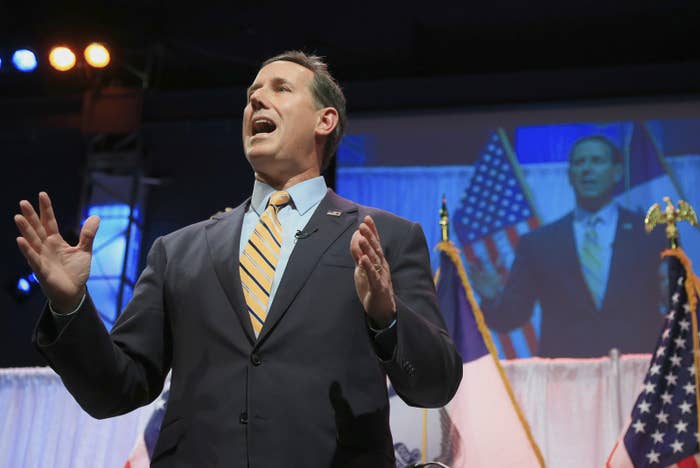 COLUMBIA, South Carolina — Former Senator Rick Santorum, a longtime culture warrior known for his conservative views on marriage equality and other social issues, said on Saturday than he believes Bruce Jenner when he says he's a woman.
"If he says he's a woman, then he's a woman," Santorum, who is weighing running for president again in 2016, said in response to a question from BuzzFeed News during a roundtable with reporters at the South Carolina Republican Party's convention. "My responsibility as a human being is to love and accept everybody. Not to criticize people for who they are. I can criticize, and I do, for what people do, for their behavior. But as far as for who they are, you have to respect everybody, and these are obviously complex issues for businesses, for society, and I think we have to look at it in a way that is compassionate and respectful of everybody."
"So these are tough issues. I haven't got into the whole issue, and I don't think the federal government should get into the whole issue of bathrooms," Santorum said after being asked whether he thinks Jenner should be able to use women's public restrooms. "I think those are things that the business community and local agencies and organizations should deal with."
Jenner, the former Olympic decathlete and stepfather of the Kardashians, came out as a trans woman in a high-profile interview with Diane Sawyer last weekend.
Santorum has traditionally hewed to, and in fact stood out for, his traditional social conservative views on LGBT issues. Santorum famously said in 2003, "In every society, the definition of marriage has not ever to my knowledge included homosexuality. That's not to pick on homosexuality. It's not, you know, man on child, man on dog, or whatever the case may be." This led to a contest held by sex columnist Dan Savage to define "santorum" as the byproduct of a sex act, which for a time topped Santorum's Google results.