Rick Santorum's Appeal In Pennsylvania: Nostalgia
The pitch: hey, I was your Senator!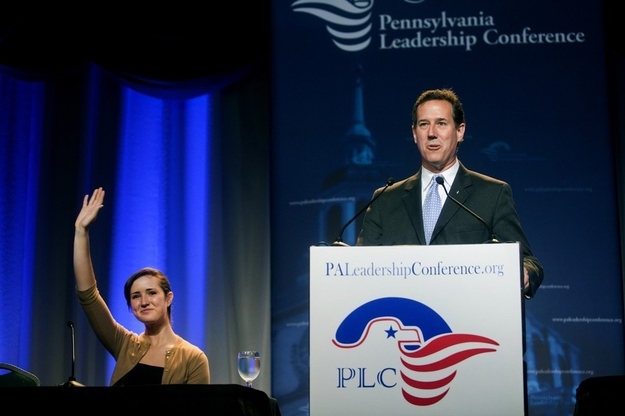 CAMP HILL, Penn. — Rick Santorum delayed the start of his standard stump speech for an unusual ten minutes at the Pennsylvania Leadership Conference today to talk to the crowd of local Republicans about his connections to the state and the tough loss of his Senate seat in 2006. The tailored speech highlights Santorum's best shot at winning in his home state: warm memories from local Republicans in a northern state that might otherwise be Romney country.
His career representing Pennsylvania "was an amazing time," Santorum said, recalling his roots as a "young kid in Southwestern Pennsylvania."
"It was just an incredible dream," he said. "I keep coming back to the gift the people of this state gave me."
He reflected on the night of his Senate loss: "last time many of you saw my daughter Sarah Maria was standing next to me at a podium six years ago, holding a little baby doll that matched her own dress, with tears running down her eyes," he said. "It was a painful night in many respects."
But it was "a great gift to get away, to separate out, to get back and involved in the private sector, and get distance from Washington," Santorum said.
"The people of Pennsylvania didn't always give me what I wanted, but they always gave me what I needed."
Santorum's appeal to Pennsylvania Republicans — who were the people voting for him during his crushing loss in the 2006 race — boils down to familiarity. It's Mitt Romney who will pour money into the state, but Santorum has the advantage of people knowing him. Of course, by the time Pennsylvania rolls around, the race is likely to coalesce more behind Romney.
But "There's a feeling of 'give him another chance,'" said David Taylor, the executive director of the Pennsylvania Manufacturer's Association, a longtime ally of Santorum's who was part of his first Senate staff. He compared it to "buyer's remorse."
"There's a lot of residual goodwill among Pennsylvania Republicans" toward Santorum, Taylor said. "Many of these folks volunteered for Rick, worked for him."
But Santorum also raised his children in Virginia while serving in the Senate, a subject of attacks in 2006. And one aspect of Santorum's legacy in Pennsylvania proves particularly sticky for local Republicans.
"I don't like that he backed Arlen Specter," said Scott Gingrich, a Republican from Lebanon, Pennsylvania.