Rick Perry Insists His Campaign Is Doing Fine
"Whether or not you've had some challenges in your finances — show me an American that hasn't?"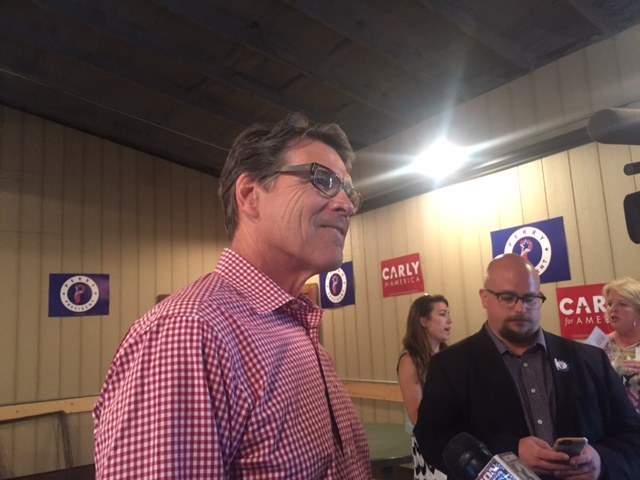 KIMBALLTON, Iowa — Republican presidential candidate Rick Perry insisted that his campaign is going strong despite the fact that he's reportedly no longer able to pay his staff, saying on Monday that many Americans can relate to his campaign's financial struggles.
"I'm figuring I can stay as long as anybody can stay," Perry told reporters at a Boots and BBQ Bash event on Monday evening, in response to a question from BuzzFeed News about how long he can keep campaigning despite his campaign's financial problems. "I'm pretty sure that most Americans have had some ups and downs in their business before, have had some challenges before. Certainly I have in all of my campaigns, and this one's no different. I've got some great people working for me, some folks that are volunteering for us."
"I think the question is, how much of a campaign are all these other folks gonna be able to run with their hundreds of millions of dollars?" Perry said. "What we're talking about is a real grassroots campaign."
"Whether or not you've had some challenges in your finances — show me an American that hasn't?" Perry said.
Perry has struggled to gain any traction among the crowded Republican field this election cycle and didn't poll high enough to make it onto the main primary debate in Cleveland earlier this month. Compounding this is the fact that Perry's fundraising has lagged to the point that he is no longer paying his staff, who are now working on a volunteer basis.
Perry is spending three days campaigning in Iowa this week, and told reporters here that he partly blamed his loss in 2012 on not spending enough time here early enough.
"I came in here in 2011 and the other candidates had been here, they'd been working, they'd put their teams together," he said. "I had a huge hole and I never dug out of it."
Despite the fact that Perry was an early critic among the candidates of frontrunner Donald Trump, blasting him as a "barking carnival act" in a speech last month, he didn't mention him during his speech to the crowd in Kimballton at the event also attended by Carly Fiorina. Perry did talk about immigration, an issue that has become a lightning rod in the primary as Trump's statements have started to pull other candidates rightward, though he mostly stuck to talking about securing the border.
Perry described asking the president to meet with him last year.
"I wanted the president to come and see what was going on on that border, see the literally tens of thousands of people who were showing up on that border, most of them, I will suggest to you — and it's been proven up — were sent up there by the drug cartels and the transnational gangs to get our law enforcement and our border patrol distracted so that they could do their evil deeds," Perry said. He said that after meeting with the president for five minutes, he could tell he wasn't going to do anything, so "I looked him in the eye and I said, Mr. President, if you don't secure the border, Texas will."
Asked about Trump's new immigration plan that would end birthright citizenship and force Mexico to pay for a border wall, Perry told reporters, "I'm a big believer that Americans are looking for solutions and they're looking for solutions that are quickly attained. And anybody's that talking about anything other than getting the border secure and really laying out a detailed way to do that is missing the whole point. You go to where the problem is. As a governor I've been dealing with this for 14 years."
"I understand that the federal government's failure to secure the border is the reason we had to deal with issues of education, the reason that we had to deal with issues of healthcare, the reason we had to deal with issues of crime," Perry said. "So all of these are symptoms of the real challenge, and the challenge is get the border secure. I know how to do that."
Perry said that after the border is secured, then "you can address the challenges because the challenges will be substantially less."
Asked about Trump's plan for a Mexico-funded border wall, Perry didn't comment on it directly, saying, "I know how to secure the border. And we'll do it quickly."