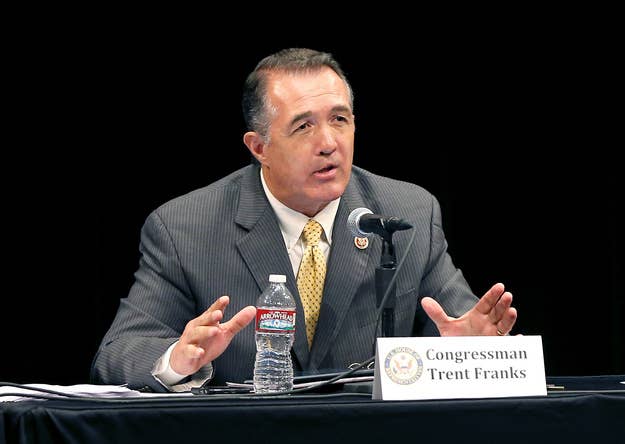 WASHINGTON — A resolution that would authorize the use of military force against Iran is gaining traction in the conservative wing of the House of Representatives, with over a dozen new co-sponsors signing on in the last two days as the administration presses Congress to lay off new Iran sanctions.
The "United States-Iran Nuclear Negotiations Act," introduced earlier this month by Arizona Rep. Trent Franks, would green-light the president's ability to use the U.S. military against Iran if nuclear negotiations fail and Iran develops a nuclear weapon.
Thirteen new members of Congress signed on as co-sponsors to the bill this week, upping the total to 28 co-sponsors, including Tea Party stalwarts like Rep. Steve King and Rep. Louie Gohmert.
"We haven't been pressing it hard yet because we've been gone too much of the time," Franks told BuzzFeed on Wednesday. He called it "encouraging" that new members had signed on to co-sponsor the resolution.
Franks stressed that the bill is not a formal Authorization for Use of Military Force (AUMF), and said it is intended to strengthen the U.S. negotiating position in nuclear talks by providing leverage through the threat of force. If passed, the bill would constitute the necessary pre-existing permission by Congress for President Barack Obama to use the U.S. military against Iran.
"The effect of it is to say that Congress has recognized or stipulated that consultation under the War Powers Act is already in place, and that's to make sure we don't operate in a crisis mode all the the where the president is in a position where the Iranian regime knows he has to telegraph whatever his options may be," Franks said.
"I suppose it depends on the progress of the talks and tenor or nature of them," Franks said when asked how successful he thought the bill would be. "But I at least want to be able to look back and say that I tried to strengthen the U.S. negotiation as much as possible."
The bill comes as the White House has been pressuring Congress to delay new Iran sanctions in the midst of a nascent thaw in relations with Iran. Secretary of State John Kerry and Secretary of the Treasury Jacob Lew are meeting with members of the Senate Banking and Senate Foreign Relations Committees on Thursday to ask them to hold off on new sanctions legislation.
Franks sounded skeptical that sanctions were working to halt Iran's progress in gaining nuclear capability, saying "we have sanctioned North Korea into starvation almost for half a century and they've tested nuclear weapons three times."
Franks said he was worried that the president "so completely misreads the Iranian intentions that it's possible for them to gain a nuclear weapons capability, and it changes the whole human equation if Iran gains a nuclear weapon. We will need a new calendar it will change the world that much."
"I'm worried that [Obama's] policy of prevention will morph into one of ostensible containment even if it's not put forward under those auspices," Franks said. "Some of us are convinced that he is so committed to making some kind of a deal with Iran that he might end up making a very bad one that results in a nuclear weapons capability."
The idea behind Franks' bill has floated around on the Senate side as well. Sen. Lindsey Graham has promised in the past to introduce similar legislation in the Senate.
"No decision on timing," Graham spokesperson Kevin Bishop said when asked when Graham might introduce his bill. "He remains extremely concerned about the Iranian nuclear program. But hasn't made any comments about the House resolution."
There is little precedent in Congress for an authorization for the use of force being put forth within the Congress instead of coming from the White House. "I haven't heard of one," said Norman Ornstein, a political scientist and Congressional scholar at the American Enterprise Institute. "But members of Congress can introduce anything they want. It seems to me clearly a symbolic measure."