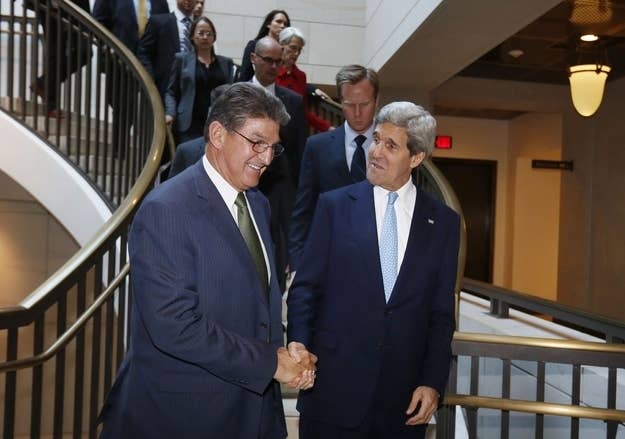 WASHINGTON — Republican senators sharply criticized the administration's closed-door presentation to the Senate Banking Committee on Wednesday, an appeal that was designed to convince them to hold off on a new round of sanctions against Iran. The committee chairman said he was left "undecided."
"It was an emotional appeal," Sen. Bob Corker told reporters after the briefing. "I have to tell you, I was very disappointed in the presentation."
Corker said that senators were given no details of the interim deal being formulated in negotiations between Iran and world powers in Geneva this month. Secretary of State John Kerry briefed the committee, along with Vice President Joe Biden and the State Department's lead Iran negotiator Wendy Sherman.
"I am stunned that in a classified setting when you're trying to talk to the very folks that would be originating legislation relative to sanctions, to have such a lack of specificity — I feel I may get that over the next 24 hours in another setting, but it was solely an emotional appeal," Corker said.
Sen. Mark Kirk was even more forceful in criticizing the officials' presentation, calling it "very unconvincing."
"It was fairly anti-Israeli," Kirk said to reporters after the briefing. "I was supposed to disbelieve everything the Israelis had just told me, and I think the Israelis probably have a pretty good intelligence service." He said the Israelis had told him that the "total changes proposed set back the program by 24 days."
A Senate aide familiar with the meeting said that "every time anybody would say anything about 'what would the Israelis say,' they'd get cut off and Kerry would say, 'You have to ignore what they're telling you, stop listening to the Israelis on this.'"
"They had no details," the aide said. "They had no ability to verify anything, to describe anything, to answer basic questions."
Kirk also criticized Sherman, whose "record on North Korea is a total failure and embarrassment to her service." Sherman was part of the U.S. negotiating team that focused on North Korea in the 1990s.
"Wendy wants you to forget her service on North Korea," Kirk said. "You shouldn't allow her."
"Today is the day I witnessed the future of nuclear war in the Middle East," Kirk said, also comparing the administration to Neville Chamberlain, the British prime minister who signed away the Sudetenland to Hitler's Germany in 1938. "How do you define an Iranian moderate? An Iranian who is out of bullets and out of money."
Kirk said that he supports multiple avenues for increasing sanctions, including an amendment on the National Defense Authorization Act (NDAA), which is supposed to come to a vote later this month.
In an interview with BuzzFeed earlier on Wednesday, Senate Armed Services Committee chairman Carl Levin said he didn't know when the vote on NDAA would come and hoped it would not include an amendment on sanctions.
"Hopefully it won't happen on NDAA," Levin said. "Hopefully it'll be a separate vote on a bill coming out of the Banking Committee."
Democrats coming out of the meeting were tight-lipped, with Sen. Joe Manchin the only one who said anything further than "no comment."
"I have trust and faith in Secretary Kerry's ability and his intentions in making sure we find the path" to keeping Iran from going nuclear, Manchin said. He would not comment on whether he supported additional legislation.
Sen. Tim Johnson, the chair of the Senate Banking Committee, would not answer reporters' questions about the status of the bill except to say that he was still "undecided" about its future.
Before entering the meeting, Kerry stopped to tell reporters that new sanctions risked "breaking faith" with the Iranians.
"The risk is that if Congress were to unilaterally move to raise sanctions, it could break faith in those negotiations and actually stop them and break them apart," Kerry said.