Republican Mega-Donors Adelsons Gave Maximum Donation To Ted Cruz Last Year
An interesting potential signal from the sought-after donors. h/t Jon Ralston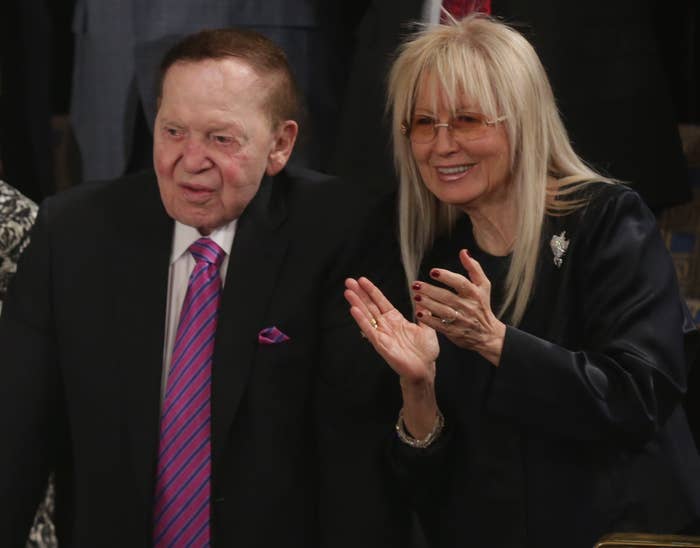 DES MOINES, Iowa — Republican casino magnate Sheldon Adelson and his wife Miriam donated the maximum amount permitted to Ted Cruz's campaign last quarter, Federal Election Commission records released on Sunday show.
The Adelsons donated $2,700 each to the Cruz campaign on Nov. 18. The news arrives on the eve of the Iowa caucuses — a seemingly make-or-break moment for Cruz, who hopes to defeat Donald Trump.
After publication of this story, Sheldon Adelson's political adviser Andy Abboud told BuzzFeed News in an email, "The Adelsons gave to several candidates. Nobody has been endorsed."
Sheldon Adelson is among the most, if not the most sought-after donor in Republican presidential politics, and his intentions in 2016 have been the subject of much speculation. The Adelsons spent close to $100 million in the 2012 election, of which $20 million went to Newt Gingrich's super PAC.
Sheldon Adelson favors candidates who align with his fiercely pro-Israel views. He and Miriam Adelson have been said to be deciding between Marco Rubio — who locked up another important pro-Israel donor in Paul Singer in October — and Cruz. BuzzFeed News reported last year that Miriam Adelson, an Israeli-American doctor who is very influential within the Adelson's political operations, is a fan of Cruz. Miriam Adelson "loves her some Ted Cruz," one person familiar with her comments last spring told BuzzFeed News at the time.
Sheldon Adelson has indicated he likes Cruz in the past; he gave Cruz a standing ovation after a speech he gave in May at a dinner for The World Values Network, Rabbi Shmuley Boteach's organization.
Others in the Adelson family donated to Rubio, the latest FEC reports also show
Miriam Adelson's daughter from a previous marriage, Yasmin Lukatz, and her husband Oren each gave $2700 to the Rubio campaign on December 7. Patrick Dumont, the husband of Miriam Adelson's other daughter Sivan Ochshorn, also maxed out to the Rubio campaign.