Republican Lawmakers Eulogize Andrew Breitbart With Life-Sized Portrait
Rep. Steve King of Iowa says he's been carrying an acorn around in his pocket for two years because of Breitbart.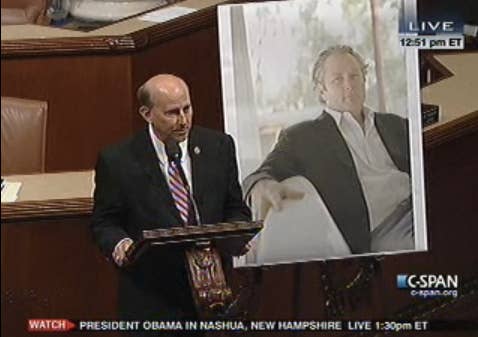 Following the news of conservative provocateur Andrew Breitbart's unexpected death last night, Republican members of Congress eulogized him on the House floor today.
Rep. Louie Gohmert of Texas spoke in front of a huge photo of Breitbart and teared up during his speech, calling Breitbart "an American hero of mine."
"He figured out how to shine sunlight inside offices of what was happening and gave a good dose of chemotherapy to the cancer," Gohmert said, referring to ACORN.
Gohmert compared Breitbart to both John Quincy Adams and Abraham Lincoln.
He yielded the floor to Steve King of Iowa, who described Breitbart as "dynamic, brilliant, fearless, visionary, altruistic, passionate, unconventional, trailblazer, patriot, and lost friend."
King took an acorn out of his pocket and held it up, calling it a tribute to Breitbart's controversial ACORN videos (with James O'Keefe).
"I've been carrying this acorn around in my pocket for two years," King said. "I wouldn't be doing this if it weren't for Andrew Breitbart."
King said that Breitbart's "influence will cascade across this civilization and this culture I believe in perpetuity just like the influence of John Quincy Adams."
Republican presidential candidates also mourned Breitbart today, with Rick Santorum telling reporters that the death was "a huge loss for the conservative movement." Both the official accounts for Newt Gingrich and Mitt Romney also tweeted condolences.