Republican Donors "Recalibrate" As Trump Keeps His Lead And Establishment Candidates Struggle
Trump's still on top months into the race, Jeb and Rubio remain in single digits, Walker is struggling even more — and the big financial backers don't really know what the solution is. "Everyone's just kind of frozen right now."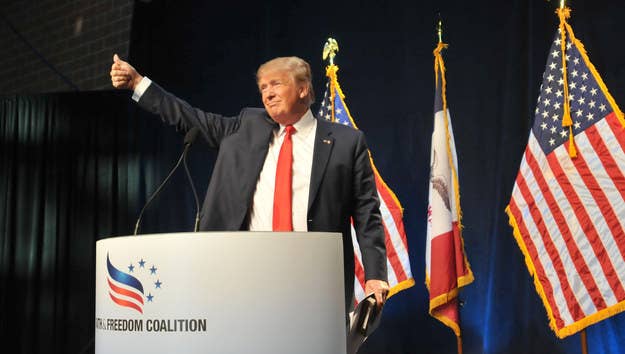 WASHINGTON — These are confusing times for the people who fund the Republican presidential race.
As the supposed top-tier candidates are struggling, many in the Republican donor class are at a loss for what to do with their money right now. The situation is so fluid that many donors are hedging their bets on different candidates or are simply frozen in place, not wanting to take a bet on anything during a topsy-turvy period in which a candidate with $100 million in his super PAC is polling in fifth place according to a recent CNN poll, while Donald Trump, the candidate who says he disdains donor money remains the frontrunner, and is trailed by a career neurosurgeon.
"Everyone's just kind of frozen right now," said one Republican operative with ties to people in the donor class who spoke on condition of anonymity. "They're waiting and seeing to wait and see if the other candidates compete against [Trump]."
"No one's preparing to slit their wrists or anything, but they are concerned and waiting this out to see if Trump is for real," the operative said.
"None of this went according to plan," said another donor-connected Republican operative who also spoke on condition of anonymity. "None of this. No one thought Trump was going to run, let alone become a dominant force. So that's forced a lot of people to just recalibrate."
Donald Trump's rise is something that donors — and the establishment in general — have been so far powerless to stop. Instead, they've had to hope that his rivals will step up and hurt him. But good signs are few and far between, and donors don't necessarily agree on what the campaigns should do.
Frayda Levin, a Rand Paul supporter and GOP donor who sits on the board of groups like Americans for Prosperity and Club for Growth, said it's still "way too early to panic," but she conceded that she is frustrated with how campaigns have responded to Trump's rise in the polls.
The candidates are "learning the wrong lesson" from Trump's rise, which is, she said, fueled by "anger and hatred."
"Rather than getting the message that they need to be more authentic — particularly i'm frustrated with Rand in that respect — they're getting the message that 'I've gotta mimic what Trump says,'" she said.
Ron Kaufman, a Bush supporter who served as a senior adviser to Mitt Romney in the 2012 election cycle, said although some donors might be getting frustrated with Bush and other top-tier contenders, they just have to wait out Trump and take polls "with a grain of salt."
"Not everyone has the patience I have," Kaufman said. "I've been down this path before. It's not fun… From the outside looking in, you always think you can do better."
The candidates who were once considered top-tier — Jeb Bush, Marco Rubio, Scott Walker — have chosen different approaches to deal with Trump, none of which have been effective. Bush, after initially ignoring him, has made opposition to Trump a centerpiece of his campaign, casting him as a fake conservative and as unserious. This has backfired, as Trump saw an opportunity and hit Bush with a barrage of attacks on his being "low energy." Rubio has largely ignored Trump. It hasn't necessarily hurt him, but he's struggled to break through, and it's certainly had no impact on Trump. Walker at first tried to ape some of Trump's positions, notably on immigration, earning several negative rounds of press and a hit to his decisive, competent reputation after subsequent waffling. Walker took on Trump publicly for the first time in last week's debate, but it may be too late. He's now polling on par with no-chance candidates like George Pataki and Lindsey Graham.
One side effect of this current moment: These candidates' struggles could boost the chances of another political outsider with establishment donors who recognize that voters seem to want a non-traditional, anti-Washington candidate.
Andy Yates, who is running a pro-Carson super PAC, said his group has been in conversations with several wealthy GOP donors — some of whom typically support establishment candidates — in the aftermath of the last debate and subsequent decline in polls for candidates like Jeb Bush and Scott Walker.
"Definitely seeing more interest from (establishment) types of folk," Yates said. "They now see him as a viable candidate. They are starting to come on board with Carson."
It's also spurred some interest in Ted Cruz, according to one of the Republican operatives quoted in this piece: "The smart money is a lot of people are starting to be say that it looks like Ted Cruz is going to be at the finish line. I don't think anybody thinks Ted Cruz is going to fail. They see that the conservative-slash-'break shit' crowd is huge in the Republican primary electorate and they see Ted as a guy with real staying power. Ted's not going to go anywhere as long as he avoids any kind of catastrophic mistake." Cruz has been careful not to appear at odds with Trump; some view the decision as a strategy to make sure Trump's supporters go to him if and when Trump drops out.
In Los Angeles the day before the debate, investor Fred Sands and his wife, philanthropist Carla Sands, hosted a fundraiser for Walker. The day after the debate, Carla Sands hosted one for Cruz attended by his wife Heidi Cruz in his stead. This is an example of how, the operative said, donors are "hedging right now." And Stan Hubbard, a Walker supporter and donor, said Walker is still his favorite candidate, but he's now giving to other candidates as well. "We believe in a robust debate, and for there to be a robust debate, candidates still have to be in the race," he said. Hubbard said Fiorina and Rubio shined in the debate, because they communicated much more effectively than Walker.
Another possibility, since many donors don't think the campaigns are doing this effectively themselves, is to mount efforts in other ways to beat back the Trump threat.
"What there's been is a resignation or acceptance of the fact that donors are going to have to contribute money and effort to stop Trump," said the first operative. This could mean "efforts at bringing into the light more negative information about him, doing more oppo research on him, finding more stuff they can use to paint him as a flip flopper, not a real conservative, all that kind of stuff."
But this, like most attempts to put the kibosh on Trump, could backfire.
"I don't know if the establishment all getting together and running $100 million [in attack ads] against Trump necessarily changes the dynamic," said one Republican strategist who does some work for Crossroads. A data-based answer could be coming soon, as the Club For Growth — not an establishment group, but a test case in outside attacks — announced last week that the group will run ads against Trump.
But the discomfort is increasing the longer the situation continues, and there's a growing sense that something must be done soon, or the consequences could be dire.
"The longer we go with Trump or Carson at the head of the pack, the more likely it is that we get to Cleveland without a nominee," said the strategist with ties to Crossroads. "There are a ton of smart people in the party now talking about that possibility, and that's a big deal that they're even talking about it. It's never happened in our lifetime."