Relief And Elation As Ted Cruz Stays Alive With Big Win
It turns out the Trump supporters "weren't real," spokesman Rick Tyler said.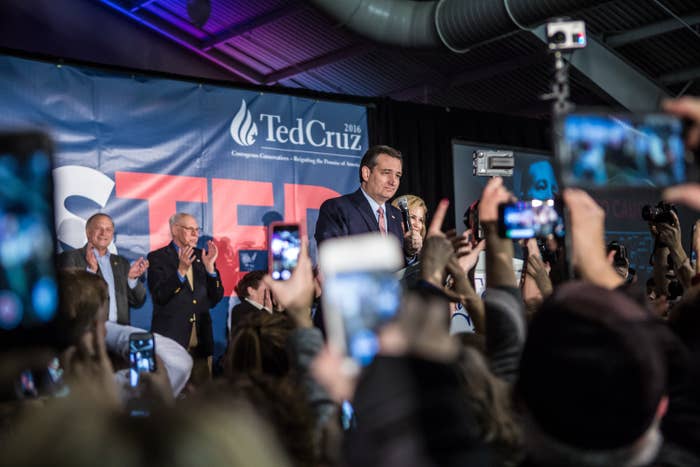 DES MOINES, Iowa — They thought it might slip away.

After a tough week capped by a final Des Moines Register poll before the Iowa caucuses showing Ted Cruz trailing Donald Trump by five points, Monday ended in a win for Cruz — and a pretty decisive one. The conservative Texas senator ran a mostly textbook Iowa campaign and relied on time-tested methods of winning the state, locking up evangelical support and executing a meticulous organization, and the laws of political gravity held.
"I'm kind of relieved," Cruz communications director Rick Tyler told reporters after the results were called for Cruz. "The Trump vote was a big question. Was it really going to turn out, were a lot of unregistered people going to show up for Trump. Because they showed up to the rallies, he had the biggest rallies, he had the largest events, and we wondered if they were really gonna vote."
It turns out the Trump supporters "weren't real," Tyler said.
Hundreds of Cruz supporters gathered at the Elwell Center on the Iowa State fairgrounds to watch the results come in, and erupted in huge cheers when CNN, which was being shown on huge screens at the front of the venue, called the race for Cruz.
The atmosphere was elated, but there was also a palpable sense of relief. Supporters described feeling both.
After weeks of mutual attacks between Trump and Cruz after the two candidates had long maintained a kind of unofficial mutual non-aggression pact, plus polls that showed Cruz slipping, conventional wisdom had shifted away from Cruz as the favorite to win. Yet, Cruz got the most votes of any candidate in the Iowa caucuses ever and beat Trump by over three points.
Tyler said that Monday's results actually tracked closely with the campaign's internal numbers.
"I should have never doubted them," Tyler said, "but you can when you see poll after poll after poll with Trump ahead with big margins and having Donald Trump saying your campaign's falling and you're going down and you peaked too early." Tyler also listed other challenges the campaign faced, such as opposition from Iowa governor Terry Branstad, a public rebuke over a controversial mailer from the Iowa secretary of state, and pro-ethanol lobbyists hounding Cruz about his opposition to the Renewable Fuel Standard. Plus, Tyler said, the evangelical lane wasn't exactly clear, with several other candidates potentially siphoning votes away from Cruz.
Cruz has now avoided what would have been a crushing defeat; as a candidate whose game plan centered around winning Iowa, a loss to a candidate like Trump would have been major. Still, Trump has a substantial lead in New Hampshire, but some are hoping that the Iowa loss will slow Trump's momentum, given that his persona is so tied to winning.
Speaking to reporters before the race was called, key Cruz endorser Bob Vander Plaats, the CEO of the Family Leader, said, "I think it punctures [Trump's] narrative."
"I think he had a really bad week," Vander Plaats said. "He creates the narrative that he never has a bad week." Vander Plaats, who has sparred with Trump on Twitter, said that Trump's attacks on him and failure to show up to the debate "had an impact with our base in a big way."
Going forward, Cruz is flying to New Hampshire tonight, doing one event on Tuesday, then flying to South Carolina for an event to "plant the flag" there, Tyler said, before returning to New Hampshire to spend a week campaigning there.
Though New Hampshire isn't a natural fit for a religious candidate like Cruz, the campaign plans to contest the state. Trump has a considerable lead in New Hampshire, and Rubio and other establishment candidates are mired in competition against each other there.
And Cruz himself, in a long victory speech Monday night, cited Reagan's victory in New Hampshire in 1980 as an example of a conservative candidate managing to win the primary there.
Cruz, whose rhetorical fealty to Reagan is nearly unrivaled among Republicans, leaned into the general election in his victory speech and invoked Reagan: "To American and the entire world, morning is coming. Morning is coming." Cruz, who is seen as a divisive figure and hated by many in the Republican party, made a pitch to expand the party, saying "To the Reagan Democrats, your party has left you," Cruz said. "The Republican party wants you, we welcome you back."
Though Cruz and his team often say that the campaign is a two-man race between him and Trump, Marco Rubio's strong showing — he came in third place with 23.1% — complicates that narrative. Rubio has been second only to Trump as a target of Cruz's attacks in recent weeks, and the campaign even switched its negative advertising exclusively to target Rubio in the days leading up to the caucuses, indicating that the campaign views Rubio as a serious threat.
"Marco worked hard in this state, let's be clear," Tyler told reporters when asked about Rubio's performance. But he played it down: "The problem with Rubio is he is going to come out of Iowa with no money," he argued. "We'll come out of Iowa with more money than Jeb Bush, Marco Rubio, Gov. Christie and Gov. Kasich combined."
"He may get a little momentum but the problem is the cycle is so compressed you have to raise an enormous amount of money very quickly and then organize very quickly," Tyler said.