Rand Paul's New Friends
A filibuster, plus friendly relationships with key Senate elders, has made Paul newly popular in Congress, where his father spent lonely decades as Dr. No. "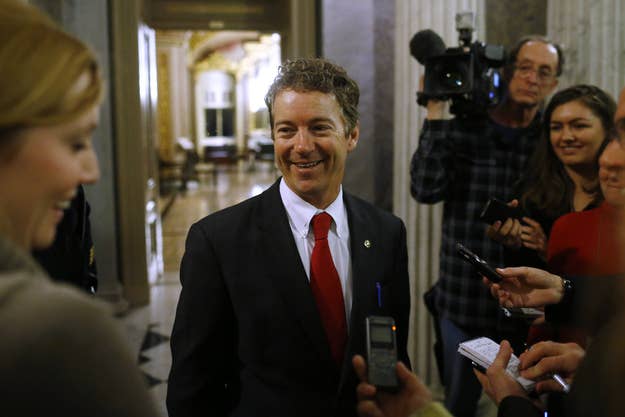 WASHINGTON — Kentucky Senator Rand Paul has friends all over the spectrum — from establishment conservatives to the freewheeling libertarian devotees of his father — after a nearly 13-hour filibuster of John Brennan's CIA nomination on Wednesday. He's also managed to make two of the Senate's most establishmentarian figures, John McCain and Lindsey Graham, look like outliers, and Republicans are privately grumbling about them.
He's managed, in other words, through showmanship and relationship-building, to finally mainstream his father's lonely brand of contrarianism.
"This marks [Paul's] arrival as a serious national figure in the Republican party, said Steve Schmidt, McCain's 2008 presidential campaign manager, who said Paul would be a "formidable candidate" in 2016.
"He has the ability to gain currency and momentum in the mainstream of the Republican party, and the libertarian wing of the Republican party has historically been a potent one," Schmidt said. "It has been dormant for quite a while. "
Paul's filibuster attracted over a dozen senators to the Senate floor, including Minority Leader Mitch McConnell. It launched a fundraising push from the NRSC and even got an assist from RNC chairman Reince Priebus, who urged other senators to join the filibuster on Twitter. Most other Senators have praised Paul for the effort, with the notable exception of Graham and McCain, who called the filibuster a "political stunt."
"Either they were drinking a lot at the Obama party or they're just completely dismissive of what was going on," said one senior Republican strategist. "They're living in an alternative universe. I don't get it at all. You have a party where there's all this talk about how divided the establishment is from the grassroots, and then you have John McCain and Lindsey Graham come out of left field with this. People are just scratching their heads."
The strategist called the filibuster "big beyond it just being a big moment for Rand Paul. It was kind of a big moment for the party because you suddenly had people rallying together on a cause of principle."
Another GOP operative called Graham and McCain "just completely out of touch."
"They don't get it," the operative said. "Did they see what was going on across the spectrum of activists yesterday? Lindsey Graham may have just made his job a whole lot harder in 2014."
"Senator McCain is obviously well aware of the politics of this - he just doesn't care," said one McCain aide. "He's doing what he thinks is right. Unlike many of these guys, he's actually been involved in a few national security debates over the years. He knows that jumping on the Rand Paul black helicopters crazytrain isn't good for our Party or our country, no matter what Twitter says."
Apart from the discontent among some of Paul's elders in the Senate, the moment was mollifying for the libertarian army that supported Ron Paul but has been much more suspicious of his son. The Paul blogosphere has lit up with news of the filibuster, though some in the Daily Paul comments are calling it "calculating," and it's bolstered much of the discussion on Reddit. These are the people who organized and fundraised for his father online, and if they're kept at a relatively placated level, they could turn out again in large numbers for Rand himself.
And it was an opportunity for an establishment figure like Mitch McConnell, up for re-election in 2014, to prove his civil liberties bona fides.
Jesse Benton, formerly Ron Paul's campaign manager and now McConnell's re-election campaign manager, said that McConnell hadn't planned to go down to the Senate on Wednesday.
"We didn't know that Rand was planning a talking filibuster but there's been plenty of communication at multiple levels that Rand planned to hold up the nomination," Benton said. McConnell "had let Rand know that he was supportive of the idea of at least holding [Brennan] to 60 votes."
"The leader was watching on C-SPAN like everyone else and we were showing him what was going on on Twitter," Benton said. "Rand's his friend, he really likes Rand, and he was personally inspired by what Rand was doing. He decided he needed to go down and support his friend. It was emotional."
"Rand is very skilled at politics, and he has built relationships with people like Mitch McConnell," Benton said.
Paul told Politico on Thursday that Republicans in favor of drones are "on the wrong side of history" and "I'm not for reading Miranda Rights to people who are shooting at us, but they say America is a battlefield and that's a huge mistake."
The victory was more significant symbolically than in reality: Brennan was confirmed as CIA director on Thursday.
This piece has been updated with comment from a McCain staffer.