Rand Paul's Challenge At Howard
Paul's civil libertarianism is popular right now. Can it sow the seeds of discontent with Democratic blocs?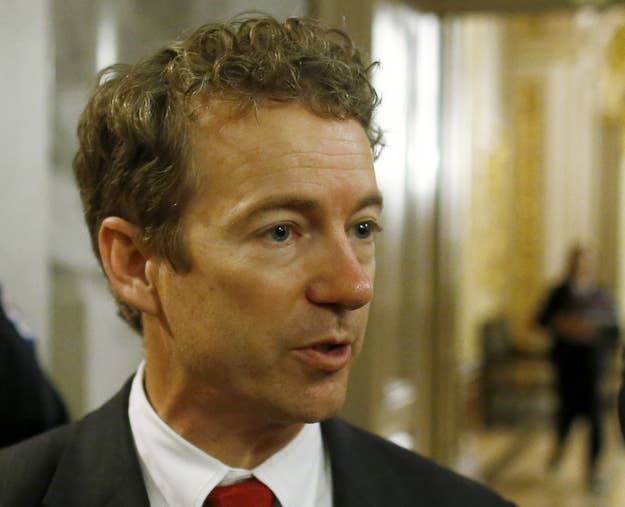 WASHINGTON — Sen. Rand Paul's speech at Howard University this week — the first appearance by a Republican politician at the historically black college in over a decade — will focus on civil liberties issues, but it represents a far bigger test: can a conservative Republican reach a predominantly young, predominantly black audience?
For decades, the Republican Party has been losing ground to Democrats in those and other demographics like women, Latino and Asian voters. The result is a modern GOP that is largely old, white, male and from the South.
For Paul, a potential candidate for the 2016 Republican presidential nomination with a libertarian streak, that sort of trend line is clearly distressing, and his Wednesday speech is clearly aimed at least testing the waters outside the traditional Republican comfort zone.
"This is part of his continuing outreach to non-traditional Republican groups, in this case African-Americans and young people," said a senior adviser to Paul who spoke on condition of anonymity, and who pointed out that Paul has been trying to make inroads with Hispanic communities as well — supporting a path to citizenship and speaking at the Hispanic Chamber of Commerce. "He's going to focus on how his vision and his perceptions of the situations the U.S. faces fit with their interests."
Although his office was being tight lipped about its specifics, Paul's spokeswoman Moira Bagley said the speech will include discussion of mandatory minimum sentencing laws, school choice, "as well as inclusion in the party and reaching out to a broader group of people," all of which already have significant support within the black community.
Additionally, Paul isn't going into this speech blind: according to sources, he's spoken with members of the Congressional Black Caucus to fine tune his message. "He's spoken a lot with the Congressional Black Caucus as well," Bagley said. After the speech, Paul will take questions from the students in Howard's School of Business auditorium.
The speech comes during an inclusion push by the Republican Party that has featured an increase in outreach to minorities, with the recognition that the electorate has changed — and so, too, must the party. The appearance by Paul at Howard will resemble the many college appearances his father Ron Paul has made to adoring crowds — but instead of young, mostly white and mostly male libertarians, the audience will be mostly composed of young African-Americans, a segment of the population that voted overwhelmingly for Obama in 2012.
Paul is coming off a season of increased hype surrounding him as a senator and his prospects in 2016, spurred by his splashy 13-hour filibuster on drones, which brought Washington together in a rare moment of left-right unity on an issue. Like his father, he appeals to a slightly younger demographic of Internet-savvy 20-somethings.
But so far, Republican efforts to reach out to the African-American community have been shaky. Republican National Committee chairman Reince Priebus failed to convince residents of East New York, Brooklyn, during a listening tour stop there, and as BuzzFeed wrote last month, some RNC staffers have mocked minority outreach efforts with a symbolic "pander bear."
Sixty percent of voters between 18 and 30 voted for President Obama in the last election, compared with 36 percent who voted with Mitt Romney. Meanwhile, 93 percent of African-American voters went for Obama, as Republican turnout models that predicted a smaller black turnout than 2008 were proved to be wrong. Paul's speech is taking place in a particularly tough room. But, his aides said, he doesn't want to appear to pander, and won't alter the basics of his libertarian ethos, which they believe could more potential to appeal to non-Republicans than does that of his more establishment-minded peers.
"I would think it's fairly unique," the adviser said of Paul's appearance at Howard. "It's challenging to go into any place where 95 percent of the people voted for the other side. But you have to go and make the case. Clearly, you can slice electorates a lot of ways. But I don't think that it's a question of what demographic group a particular set of voters are in. I'm sure there'll be skeptics, but civil liberties are clearly resonating with people."