Rand Paul Says His Stock-Trading Law Isn't Just About Newt
But his calling out certain "historians" sure seems like a criticism of Gingrich.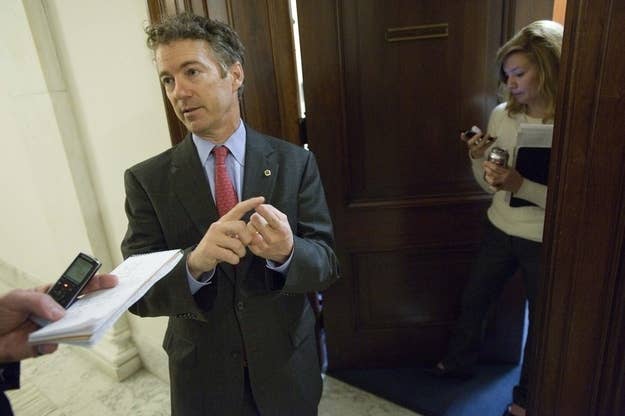 Rand Paul says that he didn't single out his father's opponent Newt Gingrich in a speech on the Senate floor yesterday as legislators debated the new anti-insider trading STOCK act, despite appearances to the contrary.
"Well really it's a reference to anybody who does lobbying and we wanted to make the definition large enough to extend to people who are influencing Congress, using their influence to get around the definition of lobbyist," Paul said today in an interview with BuzzFeed. He has proposed an amendment to the act that would bar former members of Congress from receiving their pensions if they engaged in lobbying.
But yesterday on the floor, Paul's "historian" reference sounded like it was intended for a specific target -- one who has come under fire for his post-Congress activities during the campaigns.
"I am somewhat sickened and somewhat saddened by people who use their office, who leave office and become lobbyists, who leave office and call themselves historians and leave office and peddle the friendships they have found here and the relationships to make money," Paul said.
"People talk about insider trading -- to us the biggest insider trading is lobbyists' horse trading of deals," Paul said today. "If you make millions of dollars off it you ought to give up something."
His amendment, which would force legislators and staffers to put their investments into index funds or blind trusts, hasn't exactly been welcomed on Capitol Hill. The amendment "raises serious questions about the rights of individuals who have served their nation in Congress, and what they're going to do after they leave the service of the United States," Illinois Democrat Dick Durbin said yesterday.
Paul laughed when asked about Durbin's response today. "Seems like some people might have envisioned a career as a lobbyist," he said.