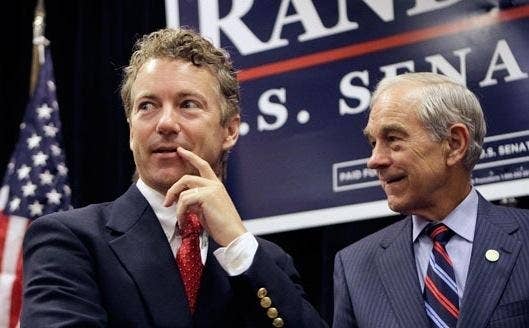 Kentucky Senator Rand Paul said his recent endorsement of Mitt Romney for president "doesn't mean anything with regard to my political philosophy or the things I support" in an interview with the Daily Paul this week.
"We're in the midst of deciding where we go," Paul said. "This doesn't go on forever. We have to decide, where does the liberty movement go from here?"
"My endorsement, what does that mean? I guess it depends on who you talk to. To me it doesn't mean anything with regard to my political philosophy or the things I support," Paul said, launching into a description of his most recent pieces of legislation.
By giving an interview to what is essentially a fan site for his father, Paul descends into the belly of the beast; Daily Paul readers and commenters have been among the most vehement critics of his decision to endorse Romney. The endorsement carries the risk of losing the Paul army after Ron Paul's retirement, though many wouldn't participate in mainstream politics without Ron Paul anyway.
Paul alluded to his tense relationship with his father's supporters, saying "people love my father so much I think sometimes they try to look beyond some of the facts of the delegate count."
"I told people for over a year that I would support the nominee," Paul said. "I sort of take it as an insult when people think I somehow don't support my father or haven't done an adequate job, in the sense that I have traveled thousands of miles and been to thousands of speeches both with him and by myself."
"I think there's probably nobody within the movement that has done more to support my dad than myself," Paul continued. He added that he discussed the Romney endorsement with Ron "many times."
He also offered faint praise for the candidate he's now supporting, saying "there is some inkling that Governor Romney isn't always as bellicose as some people make him out to be."