Rand Paul Is Not The Most Interesting Man In Politics
He's actually kind of normal and awkward. Why that works for him.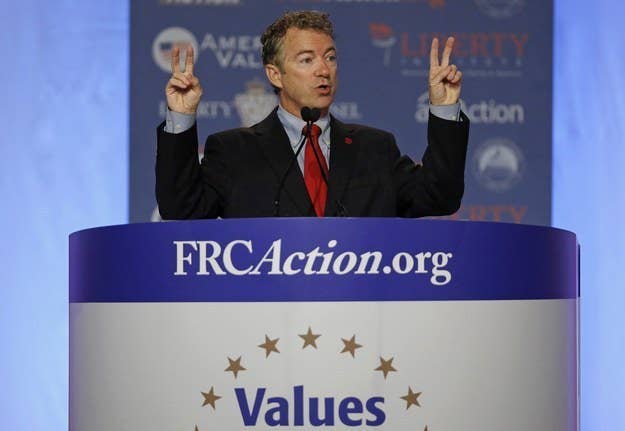 WASHINGTON — News outlets have a favorite descriptor for Sen. Rand Paul these days: "The Most Interesting Man in Politics."
Time magazine, Politico, and the Washington Post have all applied the epithet to Paul, who is a likely 2016 presidential candidate and whose views on foreign policy and criminal justice issues have put him at odds with his party's establishment and garnered him plenty of headlines.
But the man himself is a different story. Paul, unlike most politicians, is a mediocre schmoozer. He can be awkward at carrying on conversations, and rarely sports the kind of wide grins commonly found on the faces of politicians on the campaign trail. In other words, Paul is a normal guy. And he travels like one, too; while other potential 2016 candidates are surrounded by entourages — even professional photographers — as they campaign for midterm candidates, Paul is usually accompanied by a single staffer, and has also been traveling by himself.
On a flight from Des Moines to New York last week, Paul read the Wall Street Journal, typed on his iPad, napped, and ordered a cranberry juice mixed with seltzer. He flew coach like the rest of us. His staff was nowhere to be found. Though he eventually agreed to be interviewed while the plane was taxiing, attempts at conversation during the flight were unsuccessful. At the end of the flight, he made small talk with fellow passenger Arthur Neis, a Des Moines, Iowa resident, who told him "Please bring the Republican Party back to the center. If not, I'm trapped."
The next day, Paul flew by himself to Georgia to campaign for Republican senatorial candidate David Perdue.
Onstage, Paul can seem dour. At a rally with Kansas Sen. Pat Roberts and Gov. Sam Brownback this week in Wichita, Paul stood stonefaced on stage next to Brownback, who smiled broadly throughout the event. When he spoke after Brownback, the governor put a Kansas City Royals cap — this was before they lost the World Series — on Paul's head, and it seemed to struggle to go over his curls.
When he's speaking, though, he loosens up — like possible future rival Ted Cruz, Paul steps out from behind the podium and stands near it, though he doesn't roam as far and wide around the stage as Cruz does.
Paul acknowledges that his mannerisms differ from most down-home, backslapping Republican politicians with presidential ambitions. But for him, it's to his advantage.
"I think people are who they are and I think authenticity's a really important trait to have," Paul said in an interview with BuzzFeed News. "And I think we have a lot of people who are effusing unctuousness and dripping hypocrisy."
"I think it's kind of refreshing if someone is somewhat honest and forthright," Paul said. "That's the most common comment I get from people, is that I'm not preaching to them or talking down to them, I'm just talking to them like a neighbor."
Paul could find, though, that voters on the campaign trail, especially in early primary states like Iowa and New Hampshire where a candidate will meet countless voters face to face, expect a certain level of charm from their politicians. He might also have to say goodbye to solo flights and traveling with just an aide — presidential candidates tend to form a protective bubble early on.
Voters BuzzFeed News spoke with on Paul's campaign swing this past week seemed to like his low-key style, though.
"I'm really turned off by people who want to be your friend just to get a vote from you," said Jeremy Wheeler, 35, of Wichita, an office assistant at a pro-life ministry. "Rand Paul, he has done a better job than any politician I've seen of reaching out to everyone."
"If the Republicans are stupid enough to nominate somebody else for president, I'll be voting third party for the third election in a row," Wheeler, who had a Chihuahua named Mandy on his shoulders and a homemade "Rand Paul 2016" sign, said.
For some, charisma is overrated.
"I think we have enough people that are extroverts and very charismatic that I think there's room for a more temperate kind of voice," said Sally Foley, a retired lawyer from Bloomfield, Michigan, at a Republican dinner outside of Detroit last week. "Because making a lot of speeches without follow-through doesn't really solve our problems."
"If he's on a program with eight people debating, his tone is going to be perhaps a bit different from the other eight," Foley said. "I always think speaking with your own voice is effective. The fact that he has an unusual political voice cuts through all the rah-rah noise."