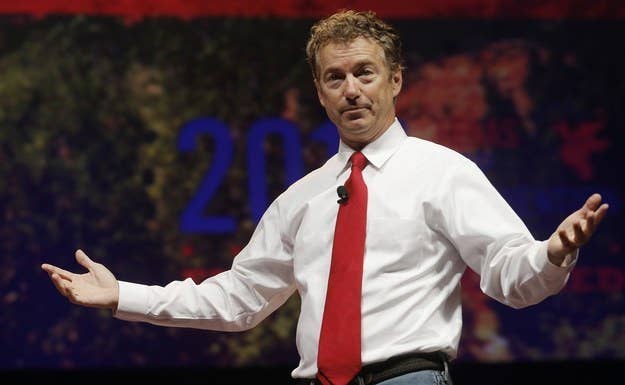 OVERLAND PARK, Kansas — A certain likely Democratic presidential candidate has appeared, rhetorically, on the campaign trail in Kansas.
Hillary Clinton has become the target of ire from Kentucky Sen. Rand Paul as he stumps for Republican candidates here after Clinton said at a recent campaign stop that businesses and corporations do not create jobs.
Stumping for Kansas Sen. Pat Roberts and Gov. Sam Brownback on Tuesday, Paul criticized Clinton for the remark at more than one campaign stop. He's one of the most sought-after surrogates for Republicans in the midterms this year, and is a likely 2016 candidate himself. He told BuzzFeed News last week that he would be deciding about a potential presidential run in the spring.
"The president says, you didn't build that, it just sort of happened," Paul said in Wichita in an airport hangar rally at midday. "The plane just sort of came into being because it was a public road and a public library."
"Hillary Clinton comes up and she says, 'Businesses don't create jobs.' Anybody here think businesses don't create jobs?" Paul said. "I'm here today to endorse Pat Roberts and Sam Brownback, because you know what? They know that businesses do create jobs, and I hope you know that too."
Later in the day, in the Kansas City suburb of Overland Park, Paul offered the line again as he stood next to the podium, sort of in the style of Sen. Ted Cruz.
"Hillary Clinton says, 'Well, businesses don't create jobs.' Anybody believe that?" he said. The crowd roared.
At an event for Massachusetts gubernatorial candidate Martha Coakley last week, Clinton said, "Don't let anybody tell you that it's corporations and businesses that create jobs. You know that old theory, trickle-down economics. That has been tried, that has failed. It has failed rather spectacularly."
Clinton later walked back the remark, arguing that corporate tax breaks are not the source of economic growth. The former secretary of state has often been criticized from the left for being too corporate.
Obama and Clinton "are on another page, they're on another planet, reading another book," Paul said.