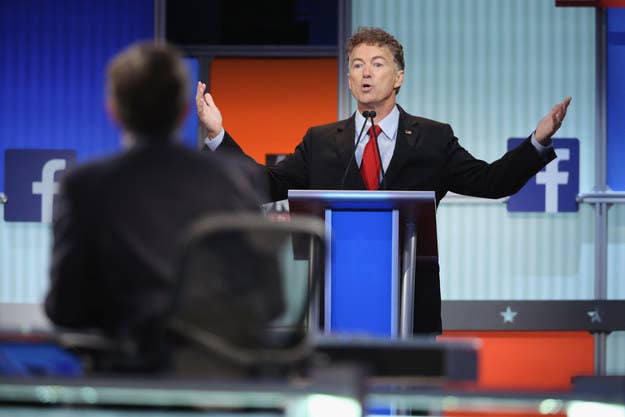 SPARTANBURG, South Carolina — Rand Paul called the charges against his political allies a "minor hiccup" for his campaign while stumping in South Carolina on Friday.
"I think it'll be a minor hiccup but I don't think it'll affect us at all," Paul said in an interview with BuzzFeed News in Rock Hill, South Carolina, early on Friday afternoon.
On Wednesday, longtime Paul political operatives Jesse Benton and John Tate were indicted for allegedly concealing payments to an Iowa state senator in exchange for his endorsing Ron Paul in 2012.
"Campaign finance regulations are very complicated and I'm assuming the lawyers and accountants will figure this one out eventually," Paul said on Friday. "And the people involved, you know, [are] taking a leave of absence, the PACs will have new leadership — there's already three super PACs associated with us."
Paul said there are still "plenty of avenues. Most of it's about having an avenue for people who want to help in different or larger ways, and I think we'll have all of those avenues open and I think we'll do fine."
The super PAC run by Benton and founded by Tate is one of two super PACs that the Rand Paul campaign recognizes.
Benton and Tate, who runs the libertarian organization Campaign for Liberty, announced that they were taking a leave of absence from the super PAC on Thursday. The two are notable figures in Paul world; Benton is one of Paul's longest-serving aides, and Tate's Campaign for Liberty is a central cog in the machine of libertarian groups that form the basis of the Paul family's support and political organizing.
At a campaign stop later Friday afternoon in Spartanburg where local reporters asked Paul questions in a panel setting, Paul was again asked about the indictments and said the accused "aren't connected to me at all."
"First of all they don't raise money for my campaign," Paul said. "They're not connected to me at all. I don't employ them."
"By law they're completely separate — I can't hire them or fire them, but they have stepped down from their position."
The men "should be given the presumption of innocence till they're proven guilty," Paul said.
"Campaign finance law is very, very complicated," Paul said. "We've got dozens of lawyers and accountants trying to keep us from having any kind of infraction. One of the problems I think we've done in our country is we scare good people from participating in anything anymore, because we say, 'If you make a mistake or if you don't follow proper form, we'll put you in jail.'"
The Obama administration has been "sitting on this stuff for four years," Paul said, and asked the audience to imagine "if it were you and you worked on the campaign and you may or may not filled out the paperwork correctly, but year in, year out they're just sort of holding this over your head and then they release it the day before my debate — I find that suspicious."
Paul made a similar point in his first comments about the controversy on Thursday, calling the timing "suspicious." Ron Paul said nearly the same thing in his own comments about the indictments.