Rand Paul "Hopes" Romney Shares His Views On The TSA
The Libertarian doesn't mention Romney during a visit to New York to promote his book. Suggests that New York could be a prime place for Ron Paul Republicans to make inroads.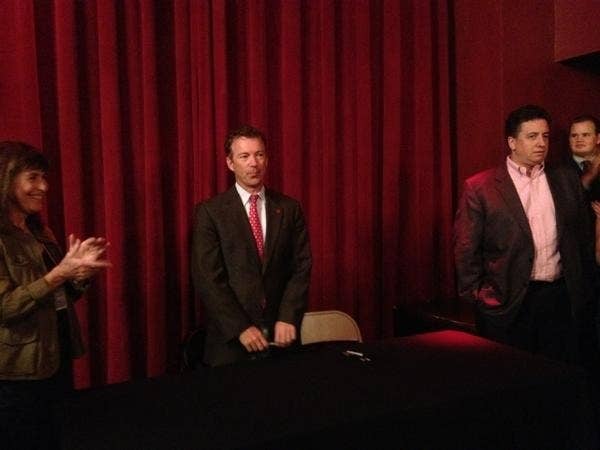 Kentucky Senator Rand Paul, in New York to promote his new book Government Bullies said Sunday that he wasn't sure of Mitt Romney's stances on the TSA, a key issue of Paul's. Paul didn't mention Romney at all during his short speech to the crowd at The Rebel, a nightclub on the west side of Manhattan, where he signed copies of his book.
"I hope so," Paul said when asked whether Romney would be more in line with Paul's stances on the TSA than Obama. "I don't know in particular his specific stance on the TSA. But I do know that if Romney wins it would be better than having President Obama," Paul told BuzzFeed and another reporter after his speech.
Paul added that "whether he's elected or not, I've said I won't vote for any Republican budget that doesn't balance."
"They will have to work hard to get my vote on any bill, on any day," Paul said.
Paul's positions on national security haven't found much of a home in the Republican Party, or anywhere else for that matter. While both parties back broad surveillance powers, the spectrum of resisters runs from the American Civil Liberties Union to Alex Jones' radio show to the Paul wing of the Republican Party. While reining in the TSA has become one of Paul's signature issues — he was even once detained at the Nashville airport for refusing a pat-down — it hasn't broken through to the mainstream of the party. (The incident has become such a part of his lore that he joked about it at the Rebel: "When I go through the airport to go home, some of my colleagues won't get in line behind me," he said.)
Paul criticized the Republican Party for shutting out libertarians.
"In the end, I've been telling everybody I can tell who will listen that there's several sections of the country that Republicans are not winning," he said. "You can look at the presidential map, we give the Democrats about 150 electoral votes on the West Coast and New England."
"Maybe we need a new strategy, and the new strategy should be not only to include Ron Paul Republicans but to embrace the concept of libertarian Republicans," Paul said. "Because I think in New York you could elect a Ron Paul kind of Republican to a senate seat or governor."
Paul, who criticized New York City mayor Michael Bloomberg as "Nanny Bloomberg" in his speech, said later that "Bloomberg's not much of a libertarian, but I also think his stances are because he has that position of power" and not because they're popular.
"If you put that on a poll and you asked people at large are you in favor of the mayor deciding how big your drink can be, I bet you he'd lose that by at least 75 percent," Paul said. "In fact that would be a good thing for the media to do, to poll that question."
According to Paul's chief of staff Doug Stafford, who co-authored his book, Paul will be in New York all day Monday doing media appearances.