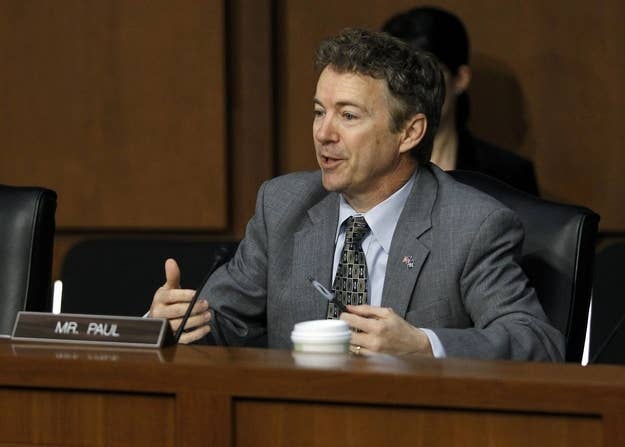 Though Senator Rand Paul has been less vociferously anti-Chuck Hagel than some of his Republican colleagues, he wouldn't rule out a filibuster of Hagel's confirmation and hasn't decided what his vote will be, he told reporters on Wednesday.
"I haven't taken a position either on filibustering or on his confirmation at this point," Paul said. A handful of Republican senators, including John Cornyn, have floated the idea of a filibuster.
Paul expressed reservations about other White House nominees too, like John Brennan, who is up for the CIA director job.
"With regard to Brennan, we're very concerned about having one person in the executive branch get together with some flash cards and decide who they'll kill around the world," Paul said (he also criticized the leaked Department of Justice memo that provided legal justification for targeted killings of Americans: "Only a team of lawyers could define 'imminent' to mean the exact opposite.").
"If it were on policy reasons I would never vote for any of President Obama's nominees," Paul said, adding that he agrees with "one percent" of Secretary of State John Kerry's political positions.
Paul acknowledged that his big foreign policy speech on Wednesday will be viewed as a 2016 move: "a lot of people want to speculate about who you are," Paul said.
"Whether that becomes part of a national campaign, time will tell," Paul said. "I do want to be part of the national debate and and international debate."
He named his closest allies on foreign policy issues in the Senate as Utah Senator Mike Lee and former South Carolina senator Jim DeMint, now the president of the Heritage Foundation.
"If you ask the public about my ideas there's a 70-80% approval rating," Paul said. He said that it was "probably the reverse" with his colleagues in the Senate.
"Elected officials haven't caught up with where the public is," he said.