Rand Paul Favors An Iron Dome-Like System For America
"I saw presentations of the Iron Dome and it was very impressive."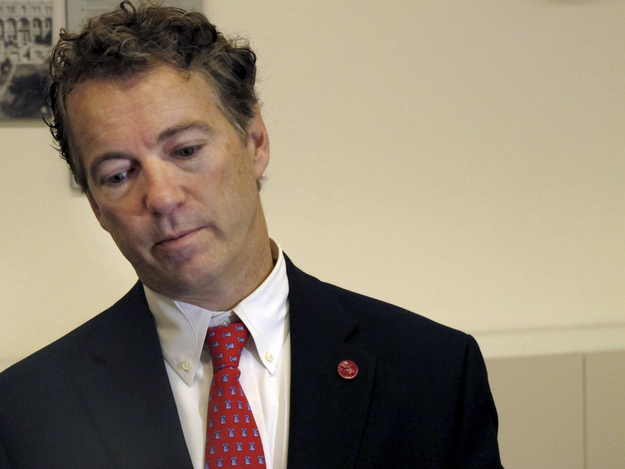 Senator Rand Paul Wednesday said there was "no reason" the United States shouldn't have its own version of Israel's Iron Dome to defend the homeland from missile attacks.
"I saw presentations of the Iron Dome and it was very impressive," Paul said in a conference call with reporters fresh off a weeklong trip to Israel and Jordan. Paul added that he is "absolutely in favor of it."
"There's no reason why our White House, our Capitol, and major cities shouldn't have missile defense," Paul said, after referencing the 9/11 attacks.
Paul demurred, however, on whether or not the U.S. should be paying for Israel's Iron Dome.
During his visit to Israel, Paul — who has supported cutting aid to Israel — met with Benjamin Netanyahu, Shimon Peres, as well as Mahmoud Abbas and the king of Jordan. The trip was interpreted as a kind of olive branch to the more hawkish elements of his party at the same time that Paul was named to the Senate Foreign Relations Committee.
"I hate to get people locked into thinking that the purpose of the trip was to go over there and spout my views on foreign aid," Paul said. "While I want to be a strong ally with Israel, that doesn't mean they can get a blank check either."
But Israel shouldn't be the first country to which the U.S. rolls back its aid, Paul said, adding that should be reserved for "countries burning our flag and chanting 'death to America.'"
During the conference call, Paul criticized President Obama's reported private assertions that "Israel doesn't know what its own best interests are" after the announcement of new E-1 settlement plans.
"That's an arrogant and presumptuous point of view and really does not further any kind of progress," Paul said. "We can't tell Israel or others how to behave."
"No one can really know as much as those who live in that region," Paul said. "To dictate to the mayor of Jerusalem where to build is ridiculous."
Paul stayed neutral on the topic of whether or not former Senator Chuck Hagel should be confirmed as Secretary of Defense, saying, "I'm open to hearing about his viewpoints."