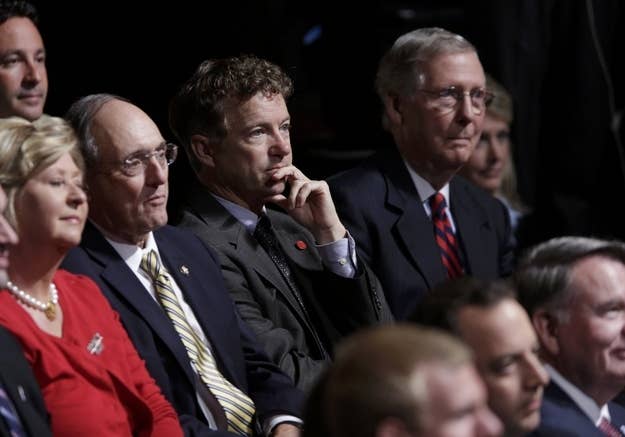 Kentucky Senator Rand Paul has been holding a series of meetings with neo-conservative pro-Israel foreign policy hands as the libertarian prepares to take a seat on the Senate Foreign Relations Committee, sources familiar with the meetings said.
Paul's new contacts include Dan Senor, a former key Mitt Romney foreign policy aide who is also close to Israeli Prime Minister Benjamin Netanyahu, who met Paul in his Washington office.
Paul is also going to take a "fairly impressive list of folks" on his trip to Israel next week, according to a source close to him, and he is planning on delivering a major foreign policy address in early February.
Both Paul and his father, outgoing Rep. Ron Paul, are viewed with considerable skepticism among the U.S. pro-Israel community for their past opposition to U.S. aid to Israel, and to American involvement abroad in general. National Jewish Democratic Council president David Harris said in a statement on Friday that "Senator Rand Paul's membership in the Senate Foreign Relations Committee should be raising red flags and provoking severe concern across the pro-Israel community." One foreign policy watcher who wished to stay anonymous told BuzzFeed that "having Rand Paul on the foreign affairs committee makes about as much sense as having a Communist run the treasury department."
But recently, the junior Paul has begun an under-the-radar campaign to make overtures to those in his party whose foreign policy views are far less libertarian than his. He did an interview with the Washington Post's hawkish blogger Jennifer Rubin, who found him "more self-aware and engaging than is the elder Paul, a wide-eyed libertarian."
"I'm irreconcilable on this point," said one prominent Jewish conservative. "But others take a different view and have met with him in the past and in the run up to this trip."
A source close to Paul confirmed the meetings and said that "Senator Paul has always spoken with a wide range of foreign policy experts." A spokesperson for Paul didn't respond to a request for comment.
Paul's trip to Israel begins on Sunday and he will meet with Prime Minister Benjamin Netanyahu and President Shimon Peres on Monday, according to The Jerusalem Post. The trip has been widely interpreted as a signal from Paul of his national intentions.
Paul has tried to soften his tone on Israel in recent days, telling the Louisville Courier-Journal last month that cutting U.S. foreign aid "should start with countries who have not been good allies.... I wouldn't start with Israel."