Putin Ally: Those Proposing Olympic Boycott "Need To Go Examine Their Head"
"The only problem is nobody wants any pride parade."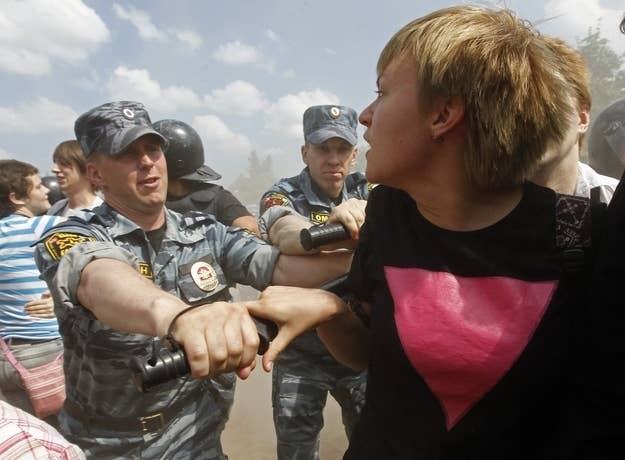 WASHINGTON — People in the West proposing a boycott of the Sochi Olympics due to Russia's news anti-gay laws should seek psychiatric help, the leader of a pro-Kremlin think tank in New York said on Monday.
"I think that people who propose these kinds of ideas, they need to go to examine their head at a psychiatrist's," said Andranik Migranyan, the director of the Institute for Democracy and Cooperation, in an interview with BuzzFeed. "Because one must be absolutely crazy to propose these kind of ideas, because the Olympics have nothing to do with laws Duma passed."
Calls for the international community to mobilize against these laws have multiplied in the run-up to the 2014 Winter Games in Sochi, Russia. Actor Harvey Fierstein wrote an op-ed in The New York Times Sunday arguing that "with Russia about to hold the Winter Games in Sochi, the country is open to pressure."
"American and world leaders must speak out against Mr. Putin's attacks and the violence they foster," Fierstein wrote. "The Olympic Committee must demand the retraction of these laws under threat of boycott."
Migranyan, who acts in his capacity with the Kremlin-approved Institute as an unofficial spokesman for Putin's policies, dismissed the argument that Russia's new laws — which include laws against "homosexual propaganda" and a law that would allow Russian police to arrest tourists suspected of being gay — are anti-gay.
"In Russia, nobody is persecuting homosexuals," Migranyan said. "In Russia, overwhelming majority of people consider that they have to live as they would like to live and leave others alone, and don't impose their way of life on the others."
"Under Soviets we had very strict regulation of this area, homosexuality was a criminal activity," Migranyan said. "Now you don't have anything like that in Russia."
The meaning of the laws — which are credited with sparking a recent wave of anti-gay violence — he said, is "don't try to impose your way of life and do propaganda of your way of life. And if anyone is perceiving this another way, they must check his head."
Migranyan argued that the 1980 boycott of the Moscow Olympics proves the facetiousness of arguments like Fierstein's.
"That was Soviet Union, communist totalitarian regime, the Soviet invasion of Afghanistan," he said. "A great great event for all the globe and the impact of this invasion could be enormous — that was why there was a mobilization of the Western world."
"The people who are trying to push forward these kinds of crazy ideas, they have no idea what's going on in Russia, what is public mood, what Russian authorities are trying to regulate," Migranyan said. "That's why they really need to go to doctor."
"At this moment Russia is one of the most free countries in the sense of respecting every kind of right, every kind of minorities," Migranyan said. "The only problem is nobody wants any pride parade because as I said, nobody wants any propaganda of any way of life which one part of society wants to impose on the others. Leave us alone and we'll leave you alone."
Correction: The Moscow Olympics took place in 1980. (7/22/13)