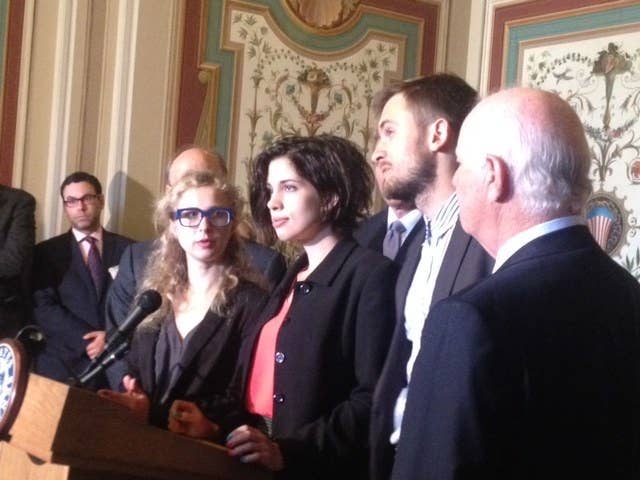 WASHINGTON — Members of the Russian punk protest group Pussy Riot appeared with lawmakers on Capitol Hill on Tuesday to ask that new names be added to the Magnitsky List, which prevents certain Russians accused of human rights abuses from entering or keeping money in the U.S.
Masha Alyokhina and Nadya Tolokonnikova, who both served nearly two years in prison after a protest performance in Moscow's main Orthodox cathedral in February 2012, stood alongside Senators Ben Cardin, Chris Murphy, Richard Blumenthal, Jeff Flake, and Congressman Steve Cohen to announce 16 new Russians they want to see added to the Magnitsky List. The Magnitsky Act, passed in 2012, created a list of Russians barred from entering the U.S. and whose assets have been frozen due to their alleged roles in the death of Sergei Magnitsky, a Russian lawyer who had uncovered government corruption.
"We'd like to remind our government that they have obligations that they have signed that they have to honor, and we would like them not to continue having such anti-Russian policies," Tolokonnikova said at a press conference. "One of the main slogans of President Putin is stability. Whereas today we can state that he is not leading Russia to stability, but to instability and chaos."
The list presented by Tolokonnikova and Alyokhina focuses mostly on people with connections to the crackdown on protesters on Bolotnaya square on May 6, 2012 — exactly two years ago — and subsequent jailing of protesters. It includes Vladimir Kolokoltsev, the Russian interior minister. It also includes judges who sentenced Bolotnaya protesters and others to prison, as well as the heads of the prisons where Tolokonnikova and Alyokhina were incarcerated and the key investigator in their case.
"We have to talk about these people, we have to talk about our political prisoners because we know that silence is the most dangerous thing for a political prisoner," Alyokhina said.
Turning to U.S. affairs, the pair said they were "appalled and saddened" to hear about the conviction of Occupy Wall Street protester Cecily McMillan for assaulting a police officer and say they had "sympathy" with the Occupy movement.
Asked what the pair thinks should be done about the Ukraine crisis, Tolokonnikova said "This question should be asked to the citizens of Ukraine" and said that presidential elections planned for May 25 should "definitely proceed."
Speaking to reporters after the press conference, Cardin said that new names could be added to the list within the month, but that he wasn't sure if all the names on the proposed list would be added.
"There's a vetting process they have to go through, I don't know how long it takes, my guess is most of these cases already have a dossier on them and it shouldn't take too long to make a decision," Cardin said.
"I would think they have most of the information on these names, I think in some cases it could be done certainly within a month, in some cases it could take a little longer," Cardin said. "In some cases they may not have enough to act, so I'm not suggesting that each one of these cases will be added. We have a process, particularly on the asset freezes, that's more complicated."
The State and Treasury Departments are tasked with adding names to the list.
Asked if recent sanctions against Russian officials introduced by the Obama administration had made the Magnitsky List less relevant, Cardin said "I think it points out the need for universal Magnitsky. How do we know there won't be a problem in Moldova, and the administration wants to act quickly? If they have universal Magnitsky, they can act."
Alyokhina and Tolokonnikova have been in Washington since the weekend, where they attended several White House Correspondents Dinner events. They met privately with members of Congress before Tuesday's press conference and may meet with others; Senator Rand Paul's staff is said to be trying to get them in for a meeting.