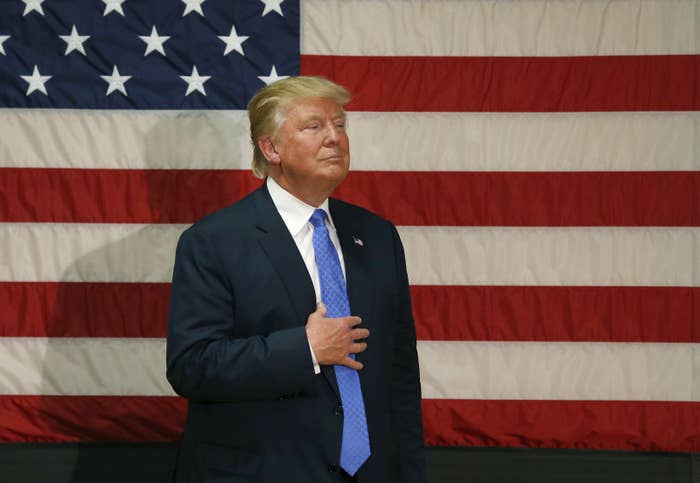 CLEVELAND — A tape of Donald Trump making extremely crude remarks about women is putting evangelical leaders who endorsed him in a tougher spot than almost anyone else in the Republican Party — and on Friday, two of the country's most powerful Christian conservative leaders did not disavow him.
"Voters of faith are voting on issues like who will protect unborn life, defend religious freedom, create jobs, and oppose the Iran nuclear deal," Faith and Freedom Coalition president Ralph Reed said in an email to BuzzFeed News. "Ten-year-old tapes of private conversation with a television talk show host rank very low on their hierarchy of concerns."
Asked if he had any comment on the tape itself and if he was definitely standing by Trump, Reed said, "I think the statement is self explanatory."
Tony Perkins, who leads the Family Research Council, also did not reject Trump in the wake of the revelations, but indicated that he doesn't share Trump's values.
"My personal support for Donald Trump has never been based upon shared values, it is based upon shared concerns about issues such as: justices on the Supreme Court that ignore the constitution, America's continued vulnerability to Islamic terrorists and the systematic attack on religious liberty that we've seen in the last 7 1/2 years," Perkins said in an email to BuzzFeed News.
On Monday, a spokesman for Focus on the Family founder James Dobson sent a statement from Dobson to BuzzFeed News.
"The comments Mr. Trump made 11 years ago were deplorable and I condemn them entirely. I also find Hillary Clinton's support of partial birth abortion criminal and her opinion of evangelicals to be bigoted," Dobson said in the statement. "There really is only one difference between the two. Mr. Trump promises to support religious liberty and the dignity of the unborn. Mrs. Clinton promises she will not."
"The comments are obviously disgusting and unfortunate," Bauer said in an interview with BuzzFeed News. "But Donald Trump did not run as a evangelical or as somebody who ran the kind of campaign that a Pat Robertson would run."
"We'll still support him, still work hard for him," Bauer said. "His policies are 100% better than Hillary clinton's for the country."
"I don't see how any values voter that is sensible would take a tape from 11 years ago with totally inappropriate language and says somehow that leads me as a voter to stay home or vote for Hillary Clinton or throw your vote away on a third party candidate," Bauer said.
The Washington Post published a video on Friday afternoon of Trump talking on a hot mic with Access Hollywood host Billy Bush in lewd terms about women, saying things such as "grab 'em by the pussy" and "I moved on her like a bitch," among other vulgar remarks.
The indefensible nature of the recording presents a dilemma for Republicans who have endorsed Trump, particularly those who have already made plain their disapproval of him, like Speaker of the House Paul Ryan, who is scheduled to appear with Trump at an event in Wisconsin tomorrow.
Most Christian conservative leaders initially supported Ted Cruz. But after becoming the nominee, Trump secured much of their support. Reed urged evangelicals to back Trump at his Road to Majority Conference in Washington in June, telling them, "Unlike a lot of our friends on the other side, we're not looking for a political messiah, because we already have a messiah" and "Different persons have different modes of excellence." Perkins announced at the Republican National Convention in June that he would support Trump.
Trump put together an evangelical advisory board earlier this year that includes Reed as well as big names in the evangelical world like Focus on the Family founder James Dobson and Liberty University president Jerry Falwell Jr.
With only 32 days left in the election, it's unclear to what extent the explosive Trump tape will affect Trump's standing with evangelical leaders and the voters for whom they serve as a conduit.
"I think they won't run, but many are going to suddenly go very silent on this," said Christian conservative radio host Erick Erickson. "They can't defend this because, just based on the conversations I'm having this afternoon, there's strong thinking that if this is what is released on Oct. 7, what else is there worse than this to dribble out over the next 30 days."
Iowa evangelical leader Bob Vander Plaats, the Family Leader president who campaigned for Ted Cruz in the Iowa caucuses, had a sharper critique. He told BuzzFeed News Trump's comments caught on tape were "totally inappropriate and exceptionally unacceptable." Vander Plaats has said that he will not endorse Trump but will vote for him.
"I suggest you contact Jerry Falwell, Sarah Palin, Franklin Graham, Dr. Dobson, Tony Perkins and other evangelical leaders who all endorsed," Vander Plaats said. "I did not, have not and will not endorse. My focus is much bigger than 2016… I'm focused on the church being the church."