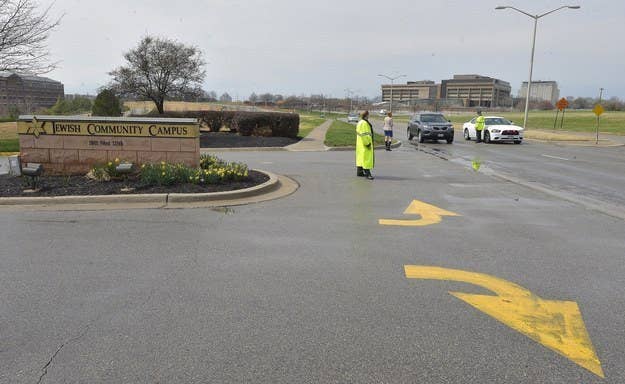 WASHINGTON — The suspect in the shootings at two Kansas City area Jewish facilities lectured a class at Missouri State University in 2012, an experience that the professor who invited him says was intended to illustrate the hatefulness of white supremacy to his students.
Frazier Glenn Miller, 73, has been named as the suspect in the shooting attack on a Jewish community center and retirement home on Sunday in Overland Park, Kan., that killed three people. Miller is a former "grand dragon" of a branch of the Ku Klux Klan who has remained an active white supremacist on the internet, where he has posted thousands of times in a forum called Vanguard News Network that uses the slogan "No Jews. Just Right."
One of Miller's posts, from Jan. 10, 2012, describes his visit to a religious studies class at Missouri State. It names the professor, David Embree, and uses multiple slurs to refer to the students in the class. "No holds barred, no quarter given to the 2 kikess' present, and though I was allotted only 45 minute to speak, plus a 15 minute Q&A period, the 16 students and I ran our mouths, nonstop almost for 2 full hours and 5 minutes. Time flew," Miller wrote.
Reached by phone on Sunday evening, Embree confirmed that Miller had spoken to an intersession class he teaches during the winter period between fall and spring semesters. Embree teaches a class called New Religious Movements, and during the intersession period he often teaches a weeklong class about a particular subgroup — he has done these before on Scientology and the Church of Latter-day Saints, he said.
"One of the groups that students were pretty fascinated by and wanted more on was white supremacists," Embree said. "One of the things I've found with many of these groups is that if I tell the story myself [the students] don't believe me, they just think I'm trying to make them look bad." So Embree invited three white supremacists — Miller, Kingdom Identity Ministries leader Mike Hallimore, and Dan Gayman, the Missouri-based leader of the Church of Israel — to come speak.
Embree said that Miller was "over the top" and boasted about crimes he'd committed and his activities in the Klan, as well as calling the students names. "His big thing was the Jews — 'the Jews did this, the Jews did that,'" Embree said.
A Jewish girl in the class spoke up to Miller and criticized him, saying "you're talking about my people," Embree said.
"He called her a kike," Embree said.
His impressions of Miller were that he was an "angry hateful person" obsessed with his past.
"When he came to my class the first thing he did was show a video of himself at a Klan rally 20 or 25 years ago," Embree said. "Those were the best days of his life."
Embree said it was a "galvanizing" experience for his students to see real extremists up close.
"They came out of there convinced that white supremacy is a real thing and a dangerous thing," Embree said. "They thought, Now we know, now we get why these guys have to be watched out for. These guys are for real."
"I asked the class, I said, 'What did you think about bringing these people in?' And they said, 'You're absolutely right, if we had not heard these people we wouldn't believe such hateful people exist,'" Embree said.
Embree said he told the dean of his college and the head of his department ahead of time of his plans to host Miller and the other white supremacists, and received no pushback from the administration.
"It's within the academic process certainly to hear the different sides of the issues," Embree said.
Miller posted Embree's cell phone number in his post on Vanguard News Network. After the post, Embree received calls from other white supremacist groups telling him that "if I wanted some real white supremacists to come to class I should invite them," he said.
"They were grousing about him and how he's not the real deal," Embree said.
He also received a call after Miller's visit from the Southern Poverty Law Center, a nonprofit that researches and publishes information about hate groups.
"They were going to out me as a white supremacist teacher," Embree said. "I said 'I'm not a white supremacist.'"
Embree was unaware that Miller was the suspect until reached by BuzzFeed. Asked if the new knowledge changed his view on the decision to invite Miller to campus, he said, "I"m still trying to process it even as I'm talking to you."