Pro-Israel Voices Blast RNC's Hire Of Paul Staffer
A spokesman's move seen as a concession to the libertarian wing of the Republican Party. Meanwhile, Romney plans a trip to Israel.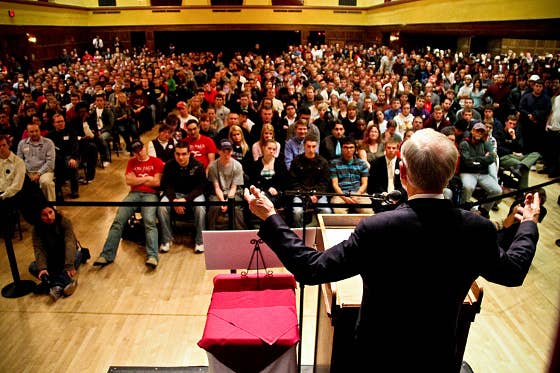 The Republican National Committee's hiring of a former Ron Paul campaign spokesman is drawing the ire of some pro-Israel Democrats who see the hire as a concession to Paul's brand of foreign policy.
The RNC announced the hire of Gary Howard, who worked on Paul's primary campaign this year and has worked for Rand Paul and Louisiana Senator David Vitter in the past, in late June.
"As Romney is working to beef up his foreign policy credentials, he and the Republican Party should concentrate on hiring professionals who have a history of supporting a strong America and a robust US-Israel relationship," said Josh Block, Senior Fellow at the Progressive Policy Institute and former AIPAC spokesman who has also sharply criticized the Obama Administration on Israel, in an email. "Not people like Gary Howard who hail from the isolationist, anti-Israel, Ron Paul wing of the Republican Party or who follow the the old Robert Taft foreign policy which advocated against US intervention in World War II."
Block suggested the hire would anger the Romney campaign, which has planned a trip to Israel to beef up the candidate's foreign policy credentials.
"If I were the Romney campaign I would be looking at the RNC and and asking myself, 'With friends like these...'," Block said.
Howard himself has not been quoted saying anything about Israel, and is a career Republican staffer with roots in the more mainstream wing of the party, not the Ron Paul "Revolution." His allies bridle at what they see as guilt-by-association for a staffer who has no known views on the controversial topic.
The RNC stood by the hire.
"We hired Gary Howard because he's an excellent communicator and someone who can get our message out," said communications director Sean Spicer. Howard could not be reached for comment.
Jewish Democrats, however, pointed to the staffing move as a reason for pro-Israel voters to distrust Republicans.
"I would argue that its the latest example of how divided they are in their foreign policy," said David Harris, executive director of the National Jewish Democratic Council. "It's ironic given that Governor Romney is planning a trip to Israel."
The hire "speaks volumes about Ron Paul's importance in the isolationist wing of the Republican Party, and it doesn't bode well in Republicans attracting Jewish votes," Harris said.
Harris said the issue is less about Howard himself than about a Republican Party that he thinks has been overrun by libertarians.
"The GOP has been completely absent in terms of dealing in any effective way with Ron Paul, his delegates, or the issues that he's raised," he said. "They've just been AWOL."
Jewish Republicans, for their part, have been less than welcoming to Ron Paul in the past; the Republican Jewish Coalition didn't invite Paul to their candidates forum this year, because they "reject his misguided and extreme views," executive director Matt Brooks said at the time to the Washington Jewish Week. Brooks could not be immediately reached for comment on this story.