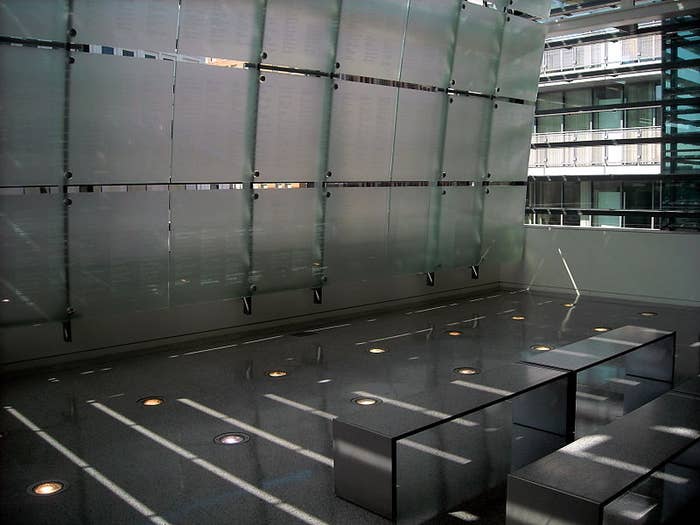 WASHINGTON — A pro-Israel think tank in Washington is so concerned over the Newseum's honoring of two slain Palestinian journalists with links to Hamas that they may consider pulling their annual policy summit from the venue, two top officials at the organization indicated on Thursday.
"I'll be putting in a call to the CEO of the Newseum first thing tomorrow morning," Cliff May, the president of the hawkish Foundation for the Defense of Democracies, said in an email to BuzzFeed. "I'm hoping he'll tell me there's been a misunderstanding – or a re-thinking once it became clear that these 'journalists' were members of designated terrorist organizations."
May said his position has less to do with his group's support for Israel than its opposition to terrorist tactics.
"If the Newseum were commemorating members of designated terrorist organizations whose main targets were Americans or Christians or Kurds or Malian Sufi Muslims, our concern would not be lessened," he said in a follow-up email.
The Newseum, a journalism museum and event venue in Washington, is honoring journalists who were killed on the job this past year in a ceremony on May 13, a plan first noticed by the conservative Weekly Standard. Two of those journalists, Hussam Salama and Mahmoud al-Kumi, are cameramen killed in Gaza in November who worked for Al-Aqsa Television, a Hamas-funded outlet, which itself has been designated a terror organization by the Treasury. The Foundation for the Defense of Democracies is scheduled to hold its event there later this year, but has become concerned about the Newseum's choice to pay tribute to the cameramen.
May said that a decision would not be made before speaking with the CEO of the Newseum.
"Let me be fair and give them an opportunity to answer my questions (I have more than a few)," he said. "As I said: Perhaps there's been a misunderstanding or perhaps some re-thinking is taking place in light of additional information they have received."
"But I will say this: I spent most of my adult life as a journalist – at the New York Times and other media organizations," May said. "I know the difference between a reporter and a terrorist propagandist. I'm hopeful that the folks at the Newseum also are able to make such distinctions."
Jonathan Schanzer, the vice president for research at the Foundation, echoed May.
"We have just learned about this, and we want to learn more," Schanzer said. "As a think tank that has done significant research on terrorist media, we are obviously deeply concerned." He also said that a decision on whether to pull the summit from the Newseum had not yet been made.
A spokesman for the Newseum said that he would have a response for BuzzFeed about the controversy surrounding the ceremony on Friday afternoon.
Update: Jonathan Thompson, a spokesman for the Newseum, sent over a statement on Friday morning standing by the musem's choice to honor the journalists:
The Newseum Journalists Memorial recognizes 2,246 journalists who died or were killed while reporting the news. To be listed on the memorial, an individual must have been a contributor of news, commentary or photography to a news outlet; an editor or news executive; a producer, camera operator, sound engineer or other member of a broadcast crew; or a documentary filmmaker.

Hussam Salama and Mahmoud Al-Kumi were cameramen in a car clearly marked "TV." The Committee to Protect Journalists, Reporters Without Borders and The World Association of Newspapers and News Publishers all consider these men journalists killed in the line duty.

The Journalists Memorial selection committee conducts case-by-case reviews using the above criteria.

Also included in the memorial this year are 82 other journalists who died in 2012 and six additional journalists who died in previous years. For a complete list of journalists on the memorial, visit the online Newseum Journalists Memorial database.
Note: This story has been updated with comments from Cliff May (5/10).