Leaders Hope To Reach Deal In Iran Nuclear Talks Following Extension
The U.S., Iran and other world powers are said to be working on a statement that would continue the talks until the June deadline for a comprehensive agreement, the Associated Press reported. BuzzFeed News' Rosie Gray reports from the talks in Switzerland.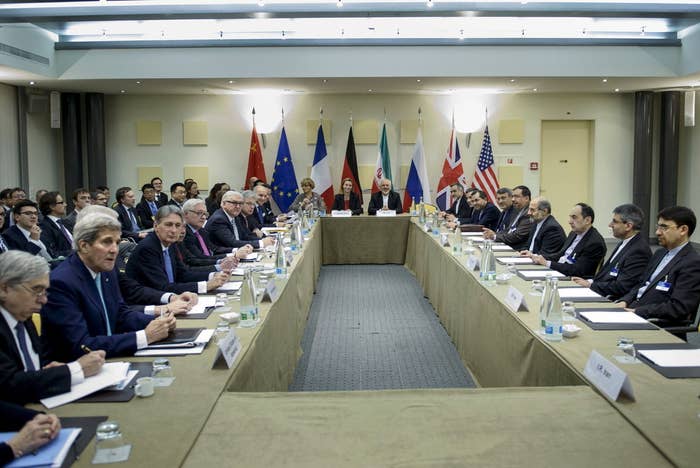 LAUSANNE, Switzerland — The Iran nuclear negotiations are now set to be extended by a day, missing their deadline for a political framework of March 31, the State Department said.
"We've made enough progress in the last days to merit staying until Wednesday," State Department acting spokesperson Marie Harf said in a statement. "There are several difficult issues still remaining."
But Russian and Iranian leaders signaled hope the discussions were close to an agreement.
Iranian Foreign Minister Mohammad Javad Zarif told reporters the delegates had "accomplished quite a bit" and would return early Wednesday.
"I hope that we can finalize the work on Wednesday and hopefully start the process of drafting tomorrow," he said.
Russian Foreign Minister Sergey Lavrov announced late Tuesday the sides had reached an agreement on "key aspects" of the deal RT reported, but that report was untrue, another diplomat later told Reuters.
"We can quite certainly say that on all the key aspects of the final settlement of this problem, the ministers have reached principal consent that will be, hopefully in the next hours, maybe a day, put on paper," Lavrov told reporters. "The experts were tasked with this."
Earlier on Tuesday, the six world powers negotiating a nuclear development accord with Iran appeared set to release a joint statement that would continue the talks ahead of a June deadline for a comprehensive deal, the AP reported. The official deadline for a political framework was Tuesday.
The powers signaled, via leaks to the press, that this round of talks would end not with a fully fleshed-out framework agreement but with a preliminary, and potentially vague, "statement." The statement would conclude six days of marathon talks. The so-called P5+1 and Iran agreed to extend the talks until the end of June during a round in Vienna in November, but had said they would try to finish up in March.
According to the Associated Press quoting anonymous officials, the statement may also be accompanied by more detailed documents.
Russian Foreign Minister Sergey Lavrov returned to Lausanne, Switzerland, after leaving yesterday. His spokesperson said on Monday that he would return if the negotiators were getting close to a deal. His return had been interpreted as a sign that this round of talks could be nearing the finish line, as opposed to dragging on past the deadline.
Speaking to reporters in Moscow, Lavrov said: "Prospects for this round of negotiations were not bad, and I would even say good," AP reported.
U.S. negotiators are under pressure to come up with as detailed a document as they can because of pressure from Republicans and some Democrats in Congress, who have threatened to hold a vote on contentious legislation that would give Congress an up-or-down vote on the deal if the U.S. does not show sufficient progress in the talks by the end of March.
Remaining sticking points in the negotiations include Iran's stockpile of enriched uranium, which they have not agreed to ship out of the country, as the P5+1 wants them to do. "The bottom line is that we don't have agreement with the Iranians on the stockpile issue," State Department acting spokeswoman Marie Harf told reporters yesterday. The P5+1 and Iran have also been stuck on the issue of how and when to lift United Nations sanctions, and to what extent Iran will be able to carry out nuclear research-and-development activities in the later years of the deal's timeline.
There have been signs that some kind of announcement could be brewing in either Lausanne or Geneva.
Former International Atomic Energy Agency deputy director Olli Heinonen told reporters on Tuesday that where he was at the U.N. in Geneva, "It seems like they are setting up all kinds of security arrangements, so it seems to me like some kind of deal is around the corner." Heinonen told BuzzFeed News later in the day that the scene in Geneva had quieted: it's "now very quiet and they may do it elsewhere," he said in an email.
Swiss outlet 24 heures reported on Tuesday that there were roads being blocked off and security sweeps happening at the Rolex Learning Center at the Swiss Federal Institute of Technology in Lausanne, indicating that there could be plans for an event of some kind there.
As of late Tuesday afternoon, a U.S. official was floating the idea that the talks could push into Wednesday if nothing is reached by the end of Tuesday.
This is a developing story. Please check @BuzzFeedNews for the latest updates.