Portman And Rubio's Double Audition
Senators Portman and Rubio speak back-to-back at a conservative conference.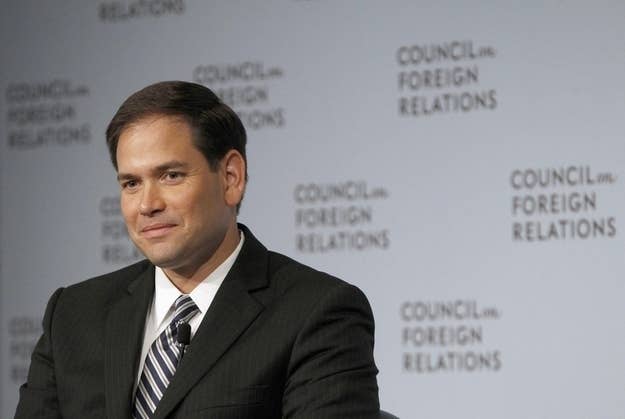 WASHINGTON, D.C. — Senators Rob Portman of Ohio and Marco Rubio of Florida both stayed impeccably on-message at the Faith and Freedom Conference at Washington's Renaissance Hotel on Thursday morning — their back-to-back speeches looking an audition between finalists for Mitt Romney's right-hand spot.
The two senators arrived late and both received standing ovations — warm but reserved for Portman, more exuberant for Rubio — and both spoke for about 20 minutes apiece, Rubio following Portman. They appeared together on the same day that both presidential candidates are giving campaign speeches in Ohio. Mitt Romney reportedly mentioned Rubio's name twice to Ohioans today.
Portman, known for his staid, competent manner, was more animated than usual during parts of his address.
Obama "needs to get out more," he said, referring to the president's now-infamous "The private sector is doing fine" remark from last week. The brief moment of sass drew applause from the audience, as did a joke about John Sununu being "cranky."
Otherwise, Portman was an effective surrogate for Romney's economic message, telling the attendees that the country needs to focus on "a capitalist system and helping free enterprise to help people achieve their God-given potential."
Later, Portman repeated a version of the the "needs to get out more" line to reporters outside the ballroom.
"As I said, I hope he gets out a little bit and sees what's really going on in the economy," Portman said to a reporter who asked about his thoughts on today's Obama speech.
Portman seemed to connect with his listeners fine, but it was Rubio whose energy onstage really got them worked up; most of his applause lines drew cheers.
"We believe government is an important institution in society," Rubio said. "It's just not THE most important institution in society."
"We are a collection of the world's go-getters."
Rubio defended the role of Congress, saying "We do here through press releases and floor debate what other people do to the exchange of gunfire. And we're blessed by that."
After his speech, Portman held a press availability, lingering for so long that one of his aides started to physically pull him away, but Rubio did not. Neither candidate answered questions about whether or not they were being vetted by the Romney campaign, though both are widely assumed to be undergoing that process.