Police, Occupiers Gird For Conventions
Romneyvilles, Obamavilles. "Surveillance is off the chain."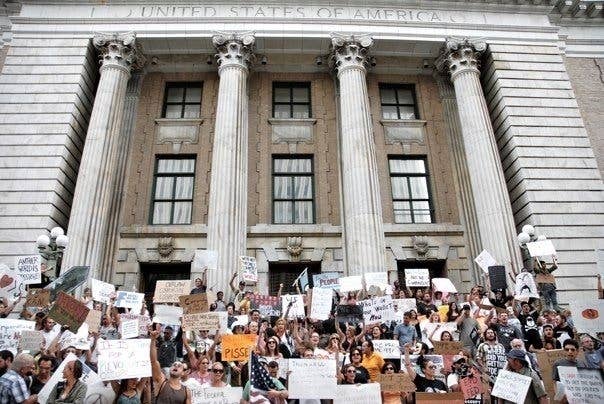 The rise of the Occupy movement and a bitter presidential election — it's a formula for confrontation and protest that has police departments in Tampa and Charlotte gearing up for massive demonstrations outside this summer's conventions.
But organizers and police officials closely watching the coming conventions say the protests outside may well fizzle. And even if the numbers are big, they seem unlikely to descend into the kind of open conflict that surrounded the 2004 Republican convention in New York City, for two reasons.
First, local law enforcement agencies have become expert at controlling mass protests over the last decade. What's more, protesters don't appear to be planning anything particularly rowdy.
"We've just looked at what previous conventions have had and what NATO had," said Tampa Police Department spokeswoman Laura McElroy. "It could be up to 10,000 to 15,000 protesters."
McElroy said that the city has set up an "event zone" where protesters can demonstrate, and will be bringing in phalanxes of extra police. Tampa has a little over 980 police officers, and the city has signed contracts with other Florida jurisdictions to bring in their police as well. Taking cues again from past conventions, McElroy said the department will aim for a force of 3,500-4,000 officers on the ground.
Robert Tufano, a spokesman for the Charlotte Police Department, would only make describe that city's plan vaguely, promising "a safe environment for the community, dignitaries, and event participants."
"There is a tremendous amount of advance planning and coordination in the areas of venue security, air space security, training, communications, and credentialing," Tufano said.
Charlotte and Tampa are being allotted $50 million apiece from the federal government to beef up security around the conventions. According to the Charlotte Observer, Charlotte's police force is expected to use that money to double in size, swelling to over 3,000 officers from neighboring cities.
Both cities have set up separate areas where protesters will be allowed to demonstrate, a longstanding practice that protesters have long resented. Occupy Tampa held a "retirement party" for the First Amendment after the city decided on its "clean zone."
Tampa's event zone will allow protesters to carry concealed weapons, a move that McElroy said wasn't controversial.
"Our officers, when they're out on patrol on a daily basis, don't know when they come into contact with someone whether they are armed or not," McElroy said. "This will be the same."
(And the protesters outside the RNC may not be likely to be gun owners, anyway.)
Both cities' police departments will be working with the Secret Service and other law enforcement agencies, said Secret Service spokesman George Ogilvy.
The Charlotte and Tampa PD's "are our main partners in this as far as law enforcement," Ogilvy said. "We plan for every and all scenarios." He wouldn't say how many extra Secret Service agents will be dispatched.
Protesters in Tampa and in Charlotte plan a diverse array of actions, including marches, encampments, and other street theater tactics most recently employed by Occupy protesters.
Rev. Bruce Wright, a homeless advocate from St. Petersburg, Florida, said that a few hundred protester plan to join an Occupy-style encampment called "Romneyville" (it will turn into "Obamaville" when the demonstrators ship up to Charlotte after the RNC).
"We managed to get it in the event zone," Wright said, though he wouldn't specify how close to the convention. "We got a private owner of property who agreed to sign the lease with us and rent the land."
Tampa will also have a number of marches and actions outside the designated event zone, mostly conducted by Occupy Tampa, which plans to disrupt the city by driving slowly across area bridges and holding a protest at Tropicana Field, per news reports.
Charlotte will hold a similar variety of events, the centerpiece being a large "March on Wall Street South" run by the Coalition to March on Wall Street South — Building People's Power During the DNC. The group was formerly known as the Coalition to Protest the DNC, and changed their name to capitalize on Occupy Wall Street's branding. The group, consisting of labor groups, Occupy groups, and other progressive organizations, won a permit in late May for a march route outside the DNC, and is meeting with the city of Charlotte today to discuss the parameters of the route.
Protesters don't plan to be violent, but expect the police to be.
"I was there in 2000, 2004 and 2008," Wright said. "Cops clearly provoke these things."
For fear of the cops, "some of the specifics are yet to be disclosed," Wright said. During the conversation with BuzzFeed, Wright mentioned that he thought his phone was being tapped — a common fear among Occupy organizers.
Worries about police surveillance are keeping a lot of protesters away from the conventions, in fact, and may thin the ranks of experienced occupiers.
"Surveillance is off the chain," said one Occupy organizer from New York who won't be attending either convention. "It's not the cops in the streets, it's the surveillance, tapped phones, home raids, arrests while you're getting coffee at 6 a.m., a.k.a. Chicago," he said, referring to the G8 protests last month.
"There are plans, but most serious organizers wouldn't touch it."