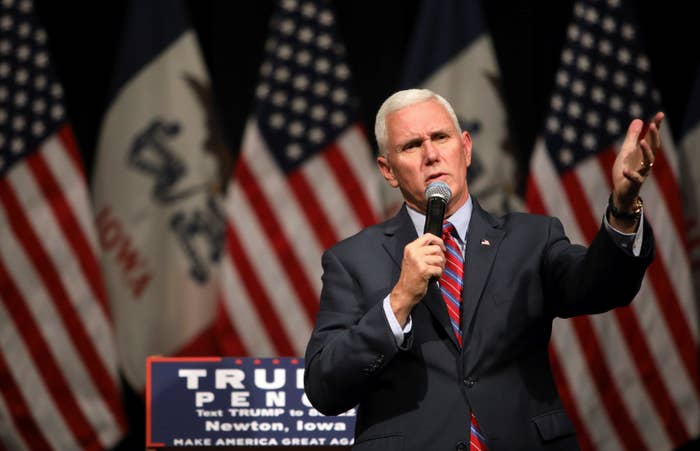 LYNCHBURG, Va. — Republican vice presidential nominee Mike Pence urged Christian college students on Wednesday to vote for Donald Trump despite his behavior, continuing his damage control efforts as the tape controversy continues this week.
Pence spoke to the convocation of Liberty University, an evangelical university that was founded by Jerry Falwell and is now run by Falwell's son, who like other Christian right leaders has stuck with Trump even in the wake of the explosive tape showing Trump bragging about sexually assaulting women and using vulgar language. The appearance emphasized Pence's role, especially in the context of the scandal, of interpreting and excusing Trump for more socially conservative audiences.
"As Christians we're called to forgive," Pence said. "My running mate showed humility, showed what was in his heart to the American people."
Trump has called the comments "locker room talk" that he didn't really mean. The tape rocked the presidential race, causing some top Republicans to flee from Trump and even eliciting censure from Pence himself, who condemned the remarks Trump made on the tape. Pence — a Christian conservative — was rumored to be considering dropping off the ticket over the weekend, but made clear after the debate that he was committed. In campaign stops this week, Pence has repeatedly praised Trump for supposedly showing "humility" about the tape.
"Nowhere does it teach in the Bible that we are to sit on the sidelines of history," Pence said. "And this is no time for the people of faith to sit on the sidelines.
"Shortcomings are no excuse for inaction," Pence said. "If we were perfect, in a word, we wouldn't need Jesus. But we're far from perfect and we do need him."
"I would submit to each and every one of you, when you think about this choice and how dramatic it is, now's the time to stay the course," Pence said. "Not to flinch in the face of harsh political winds."
Liberty University often hosts political figures at its convocations, where attendance is "an agreed upon expectation that is clearly communicated to all applicants who desire to be a residential, undergraduate student at Liberty University," according to the school's website. Ted Cruz announced his presidential campaign there.
On Wednesday, Liberty students who spoke to BuzzFeed News mostly all condemned the Trump tape. But most said they felt they would vote for him anyway.
Greta Penix, a 20-year-old junior at Liberty from Oregon, said she would probably vote for Trump because "although I might agree more with a third party, and I really do not appreciate the comments Trump has made about women and I disagree with them and think he's been completely disrespectful to people — where he stands on social issues, abortion, standing with Israel and religious freedom, that morally aligns with what I believe over what Hillary Clinton believes."
Penix also said she felt reassured by Trump's evangelical advisory council. "I'm not one to judge, I don't believe he's a Christian," she said. "But he's seeking guidance from people like that." Pence, on the other hand, "more aligns morally with what I believe and I've never heard him say anything disrespecting women."
"The way I try to look at it is, I'm not electing a friend," said Rachel Rafferty, a 21-year-old senior. "I think what he's going to get done, whether I like him as a person or not, is more in favor of what I feel and the way I look at things" than Clinton.
"As a person, I'm not a huge fan" of Trump," Rafferty said. "I actually kind of wish Pence was running for president. I think I relate definitely a lot more to him."
"I'm critical of Trump, I've always liked Pence," said Matt Kuser, 18, a freshman. Trump is "all talk no show to me."
"I grew up in public school, I've heard a lot worse," Kuser said of the tape that shows Trump bragging about committing what amounts to sexual assault. "Should he have ever said it? Probably not. Do I believe he did it? Probably not. If he did, shame on him." Kuser said he is "not solid" on voting for Trump and may vote for independent candidate Evan McMullin.
"I think the Trump video tape is disgusting and I'm not going to vote for Trump because I think he's claiming to be a Christian but in my perspective that's not how a Christian is," said Haley Martin, 20, a junior from Virginia. "A Christian is supposed to show love."
"I know there's forgiveness in that, I know he could be changed," Martin said, "but just seeing how this election cycle's been, how he's talked to different women and degraded them, I don't know if he really has changed or if he's just saying it to get the vote."
Martin said it was possible Pence could convince her to vote for Trump, though she hadn't heard much about him before.
"Personally, I would vote for him for president," Thomas Lisa, 20, said of Pence. "Just by the way he presents himself — calm and composed. More politically in tune, I guess."