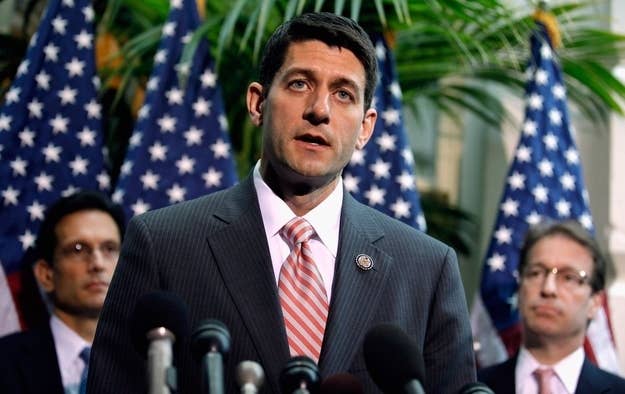 Wisconsin Rep. Paul Ryan, the icon of the anti-spending movement in the Republican Party, has communicated to former Senator Rick Santorum that he will endorse Mitt Romney, according to a source familiar with the conversation.
Ryan's staff called Rick Santorum today as a courtesy to announce the news. The announcement from Ryan himself is expected this weekend, most likely during one of the Sunday shows, the source said — and in the run-up to the Republican primary. But
Ryan is appearing on the show of top Wisconsin talk radio host, Charlie Sykes, Friday morning, and Republicans speculated after BuzzFeed reported the endorsement Thursday night that the formal announcement could come Friday morning.
The move is also timed to end the Republican contest, coming after another major conservative leader, Florida Senator Marco Rubio, backed Romney. It badly undercuts Santorum's case that he can rally a conservative opposition to the moderate frontrunner, and is likely to further squeeze the money and political support Santorum has sought to command.
The apparent cost of Ryan's endorsement was Romney's backing earlier this month for Ryan's 2013 budget plan, which would cut the top marginal tax rate while reducing spending on Medicare and Medicaid, and shifting the federal health program for the elderly to a private voucher system.
"I'm very supportive of the Ryan budget plan," Romney said. "It's a bold and exciting effort on his part and on the part of the Republicans, and it's very much consistent with what I put out earlier."
He said: "I applaud it. It's an excellent piece of work and very much needed."