Other Anti-American Samira Ibrahim Tweets Emerge
The Egyptian activist thought that the U.S. was funding the Muslim Brotherhood in North Africa to help Israel. And called for Egypt to expel all Israeli citizens.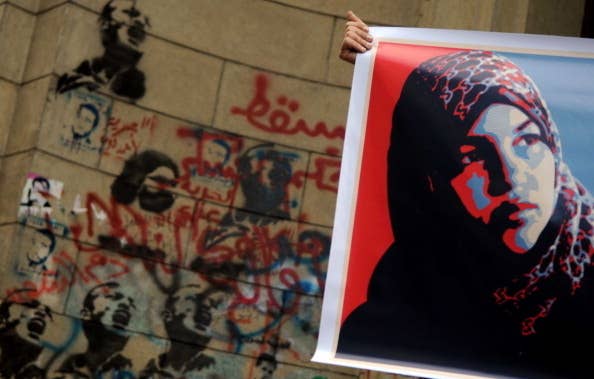 WASHINGTON — Egyptian activist Samira Ibrahim, whose award that was to be presented by Michelle Obama and the State Department was deferred due to a number of anti-Semitic tweets that came to light this week, tweeted more explicitly anti-American conspiracy theories in January that have not yet come to full public attention.
The Weekly Standard reported that Ibrahim, who was to receive an International Women of Courage award at the State Department from Michelle Obama and John Kerry for her work in outlawing forced "virginity tests" in Egypt, had sent tweets celebrating terrorist attacks on Israelis and describing the Saudi ruling family as "dirtier than the Jews." She also tweeted in praise of the 9/11 attacks.
But there are other Ibrahim tweets that were similarly anti-American as well as being even more conspiracy-minded, according to translations provided to BuzzFeed by to Egyptian activist Mina Rezkalla.
In a thread from January 5, Ibrahim argues "MB failed in the Emirates and it is going to fail in any country as long as there isn't signal from the US to them... the green light to the MB is only in North Africa." She says in her next tweet that "US is controlling the Gulf (Gulf countries) and play for the benefit of Israel .. MB play in North Africa for the benefit of Israel."
In another thread from January 11, Ibrahim is in a Twitter conversation with a man who says that Egypt and Iran should form an alliance to target Israel. Ibrahim says, "the current regime doesn't consider Israel an enemy but rather considers Iran an enemy. You are right, I wish there is a military alliance between Iran and Egypt." She tweets that an alliance with Iran would be a "million times better" than the alliance with the U.S.
And there was more anti-Israeli content as well. On August 5, Ibrahim called for Egypt to expel all Israelis from Egypt immediately ("1-review Camp-David 2- put the defense minister on a trial 3-change the army's leadership 4- expel any person who holds Israeli citizenship from Egypt immediately"). She also tweeted on August 5, "Egyptian media is inciting against Palestine instead of Israel. #whoring."
The State Department announced that it was deferring Ibrahim's award until further review, after originally saying it believed that Ibrahim had been hacked. Ibrahim herself, after originally claiming she had been hacked, has taken to Twitter to say "I refuse to apologize to the Zionist lobby in America regarding my previous anti-Zionist statements under pressure from American government therefore they withdrew the award."
Asked how the U.S. Embassy in Cairo could have overlooked the tweets while vetting Ibrahim for the award, State Department spokeswoman Victoria Nuland referred BuzzFeed to yesterday's and today's press briefings.