On 4/20, Gary Johnson Reflects
The Libertarian candidate weighs in on his recent polling and how "volunteer" Roger Stone doesn't like how he dresses.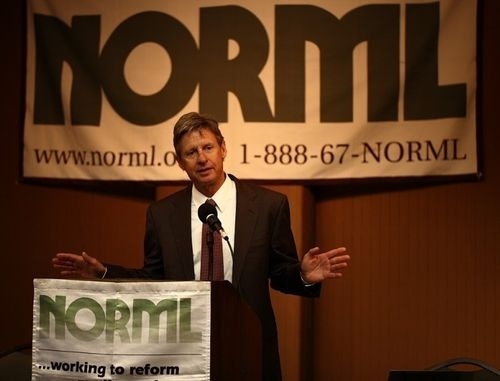 Libertarian presidential candidate Gary Johnson pocket-dialed this reporter at around 10:30 a.m. on 4/20, the pot holiday.
"You know what, I think it was a butt call," Johnson said.
Johnson, who is expected to win the Libertarian nomination for President, had earlier spoken with BuzzFeed this morning about his potential to be a spoiler in the presidential race and, of course, about pot.
Johnson believes that his polling at 6% compared with Romney and Obama has less to do with him and more with frustration with the mainstream options.
"You know, I don't view that so much as me as it is just the third name being mentioned. So from my standpoint maybe there's some opportunity in that," he said. "I have a sense at the end of the day it'll be equally from both sides and taking from a middle group that wouldn't normally vote."
Johnson believes that the group will be "fed-up Democrats, on the Republican side a bunch of Republicans fed up with way they spend money." He also thinks that Ron Paul's support may largely go to him.
And people whose main issue is drug policy: "I do think it's significant that three months ago Gallup came out with a poll that said 50 percent of Americans support legalizing marijuana," Johnson said. "People are talking about it like they never have before. Maybe the libertarian party is ultimately responsible for it." He pointed to Colorado as a frontrunner in progressive drug policy and criticized President Obama for the federal government's raids on medical marijuana farms.
Johnson, who views himself as a "messenger" like Ron Paul, reflected on his time as a Republican nominee, particularly the debate where he made his quip about his dogs creating more shovel-ready jobs than the administration.
"I think I got 90 seconds in that debate. I like to think I made the most out of the 90 seconds that I had. And the fact that I made a witty statement regarding dog shit made me the most Googled name on the planet for a little while after that."
And he chimed in on political consultant Roger Stone's role with his campaign, saying, "He has been like my number one volunteer. He has endorsed my campaign and then he's volunteered himself in all capacities. Terrific value added and doesn't cost me anything."
Stone's famously slavish attention to proper modes of dress "hasn't had an effect on me," Johnson said. "But yeah, he talks about my lack of dress, oftentimes. I'll take it, I'll take it."