How A Gulf Monarchy Became A Key Player In The Iran Talks
The "Oman+6."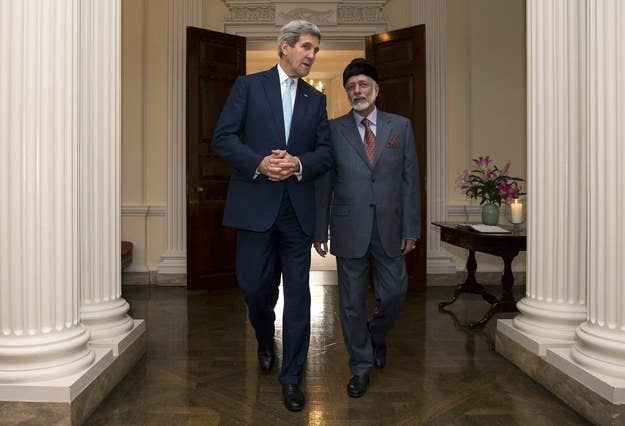 VIENNA — The Gulf monarchy of Oman has become a key player in the Iran nuclear negotiations, taking what observers say is more than just a facilitating role.
Oman's foreign minister Yusuf bin Alawi bin Abdullah was quietly in Vienna for what was supposed to be the final round of talks leading to a deal, but which will instead be extended for another seven months. The next meeting may yet take place in Oman.
The Omanis' role has grown from the conduit of messages to a trusted mediator between the Americans and Iranians, observers say. For a Gulf state, the country has unusually close relations with Iran, but also neighbors Iran's rival Saudi Arabia and is a member of the Gulf Cooperation Council (GCC).
Oman's role as a sotto voce player in the Iran negotiations dates back to when it was the venue for the U.S. and Iran to hold secret talks starting in 2012. These paved the way for the direct public negotiations that led to last November's interim deal that in turn launched the current rounds of negotiations, which are now due to come to a conclusion on June 30, 2015. The last round of talks before those that concluded in Vienna on Monday were also held in the Omani capital, Muscat.
Oman has previously brought messages between the two sides; for example, the Sultan Qaboos delivered a letter written by President Obama to Iranian President Hassan Rouhani after the latter's election last year.
Oman is not just doing this out of altruism; it has its own interest in the talks as a Gulf state that would be affected by their outcome.
"The Gulf states have always complained that they should have a mechanism for playing a direct role in negotiations that have such profound implications for their security," said Suzanne Maloney, senior fellow at the Center for Middle East Policy at the Brookings Institution, in an email. "Of course, I don't know if the GCC (or more pointedly, the Saudis) would select the Omanis to play this role if they could choose."
According to Trita Parsi, president of the National Iranian American Council, "Oman is one of the few Arab countries in the GCC that actually has had quite positive historic ties with Iran." Echoing Maloney, Parsi pointed out that the GCC countries have complained about not being given a voice at the table, and that the inclusion of Oman as a trusted mediator was an important development.
Though the group of six countries that negotiate with Iran is referred to as the P5+1, "one wonders if it should really be the Oman plus six," Parsi joked.
"The role of Oman in the current nuclear talks has been indispensable," said Meir Javedanfar, an Iran lecturer at IDC Herzliya in Israel. "Without the personal intervention of Sultan Qaboos and his facilitation of direct secret talks, its quite possible that it would have taken far longer for the bilateral US-Iran negotiations to start."
But Oman's role is purposefully behind the scenes; asked to discuss Oman's involvement on Sunday, an Iranian diplomat close to the negotiations declined, and would not even confirm if the foreign minister was still in Vienna. And it's not entirely clear exactly what role was played at the latest round of talks, though Parsi noted that Oman is no longer necessary as a messenger between the two sides, since they communicate directly now. But Oman "could help clarify things, could help lend their trust to the process and by that help the two sides overcome some of their suspicion and some of their fears."
Maloney said Abdullah's role "probably doesn't quite rise to the level of junior partner to the P5+1 and that "he is more of a bilateral mediator" between Washington and Tehran — which indicates a bump in importance to the negotiations.
"This is an expansion or an elevation of his usual role, which has traditionally been to serve as a facilitator of meetings or a conduit for messages," Maloney said. "I think his increasing and unexpected activism is interesting, particularly since these are highly technical discussions on the specifics of the nuclear infrastructure and sanctions regulations. I'm not sure how he can play into the substance of such a dialogue but his recurrent presence suggests that all sides see some value in his intercessions."