Ohio Democrats Blame Top Obama Official For Party Battle
A top ally of financial protection chief Richard Cordray sought to orchestrate a coup. Coincidence, or a brewing local battle between Cordray and Strickland?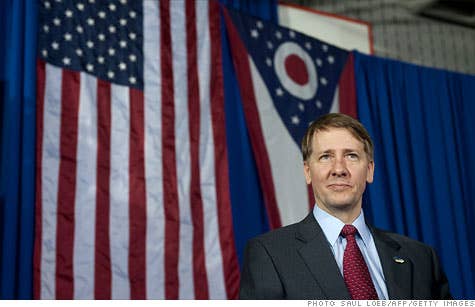 A senior official in the Obama Administration has gotten himself entangled in the complex intramural politics of his home state, Ohio, where a battle over state party office this week ended with many state Democrats' fingers pointed back to Washington.
Rich Cordray, the newly-appointed director of the Consumer Financial Protection Bureau, wasn't in attendance at the state central committee meeting that re elected Ohio Democratic Party Chairman Chris Redfern by a wide margin two nights ago in Columbus.
But one of his closest advisors, a woman who has worked on everything from his first local races in the late 1990s all the way to his role as Ohio Attorney General, was behind the push to unseat the popular Redfern, leading Ohio Democrats to
grumble that her actions were a way for the new Obama Administration official — a
man who holds one of the Administration's most politically sensitive positions — to
set the stage for a future gubernatorial run.
As a consultant, Melissa Barnhart has been traveling the state in the lead-up to the central committee meeting, asking county chairs to run for Redfern's seat, several Ohio Democrats said. The candidate she found was a lawyer named Anthony
Giardini, in his first term as chairman of the Lorain County party. He received the
endorsement of UAW in Ohio, but wasn't seen as a credible threat to Redfern by
many in the party. Some Democrats saw the challenge as an effort by Cordray to
clear space from afar for an easier 2014 run.
"It was very clear that there were intentions here that were not about 2012, but solely focused on 2014," said one top Ohio Democratic operative. "It's disturbing to many of us who were focused on 2012."
Barnhart, who runs a small political consulting firm, denied that her role in the election had anything to do with Cordray.
"Absolutely not," she said. "This was about Chris Redfern's performance in 2010 andrunning for state rep simultaneously with party chair."
And a spokeswoman for Cordray, Jennifer Howard, declined to comment on the
incident, which is roiling Ohio's Democratic politics.
Redfern was criticized in 2010 for calling Tea Partiers "fuckers" and held the position of state representative at the same time as state party chairman from 2005 to 2009.
Redfern has been chairman of the state party since 2005 and is seen as an ally of former governor Ted Strickland, who is also expected to run again in 2014. Keeping Redfern in office this year was regarded as both a priority and an easy win for many Ohio Democrats in an especially important election year for them: Ohio is set to be perhaps the biggest battleground state in the general election, and the party is also focused on re-electing Sen. Sherrod Brown, another Redfern ally.
"A lot of people questioned the timing of removing the chairman during this period,"
said Montgomery County Democratic Chairman Mark Owens.
Sources say Barnhart traveled the state trying to recruit county chairs to run against Redfern, and some accused her of misleading them.
"At one point she told folks that she had all six of the votes from Hamilton County,
which I knew not to be true," Hamilton County party chair Tim Burke told
BuzzFeed. "She also indicated to some people that I was a candidate for state chair, which I never was." Burke says Barnhart never directly asked him to run. Owens says Barnhart talked to him on three separate occasions about running.
Some central committee members said they received phone calls from Cordray
himself thanking them for running. One person who was at the central committee
meeting reported seeing Barnhart and two other former Cordray aides, Mark Manning and Eric Wyne, and said one said Barnhart could be seen texting with "Rich" on her BlackBerry during the vote; it was "clearly the Cordray campaign," they said.
Barnhart denied the suggestion Cordray was involved in the battle. She told
BuzzFeed that Cordray is "a little busy being the President's appointee. He's not
really paying attention to state party chair fights." She said she hasn't been in direct contact with him about the election.
"I thought that this was ill-conceived," said Mahoning County party chair Dave Betras. "It was quite frankly stupid politically. Anyone that would spearhead this and get the ass kicking that they took doesn't know much about politics."
Cordray is in "bad position, he shouldn't be involved. He claims not to be but can't be the case," said the Democratic operative. "This could have been stopped had he simply picked up the phone and said enough. He'll jeopardize his standing in the administration."
"I would assume if Cordray knew that his operative was doing that, he could have
pulled her back had he wanted to," said Betras.