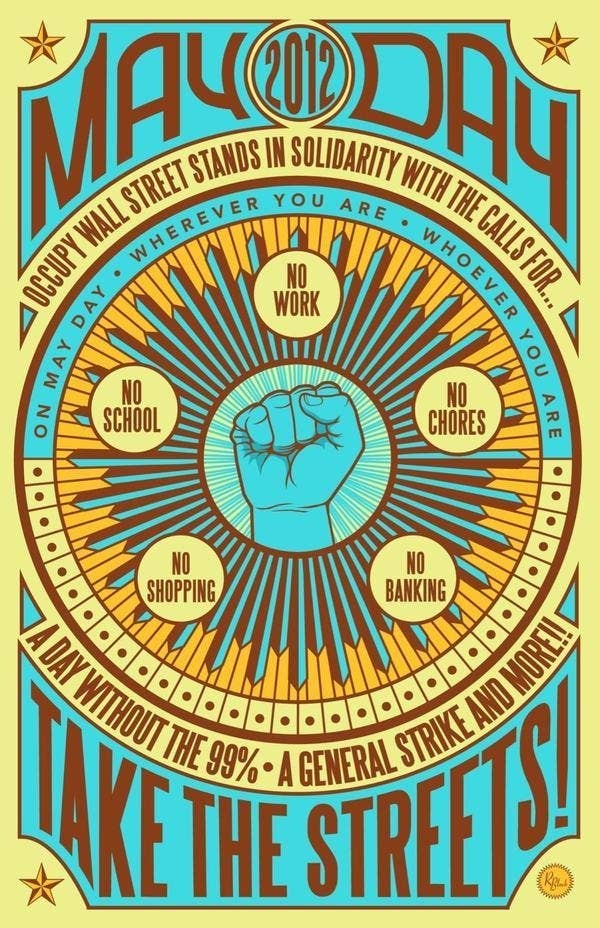 Occupy Wall Street, largely forgotten over the last few months, aims to make a comeback from this winter's hibernation with an ambitious plan: a crippling May Day "general strike" in the tradition of 1930s radicalism.
The grand promise is what one occupier, Brendan Burke, described to BuzzFeed as "a day without the 99%." But in the city where the movement was born, it's already suffering from what has emerged as one of Occupy's signal weaknesses, the lack of ability or interest to make alliances with liberal institutions. Despite public solidarity, there's little relationship between the Occupy movement and organized labor. And as a result, even the most progressive New York labor leaders say their members will not participate in the May 1 strike.
"It won't happen," said Stuart Appelbaum, president of the Retail, Wholesale and Department Store Union and one of the first labor leaders to embrace the Occupy movement. "They are not working with the unions in a serious way yet; nor are the unions working with them in a serious way. And it is the wrong strategy."
"I think the concept is a great one but the reality is very tough," said Arthur Cheliotes, the President of Local 1180, Communications Workers of America and a stalwart of the New York left.
The United States hasn't seen a general strike — generally thought of as a moment when workers in a region or metropolitan area, across industries, walk off the job in class solidarity — since 1946, when an estimated 130,000 workers stopped working in Oakland. Other countries with different laws for organized labor – France is a famous example – experience general strikes more frequently, and theirs can be crippling to large public systems like transportation.
Here, however, the 1947 Taft-Hartley act, which sets the conditions between labor and management, protected some labor actions but outlawed general strikes, and make national Occupy calls for a May 1 general strike a very heavy lift.
"We're public sector workers—we take a day off for a general strike and we're fined two days' pay," said Cheliotes. "I don't think my members are inclined to engage in that process."
Even Transit Workers Union Local 100, the New York City subway union with a tradition of being one of the most radical mainstream unions in the country, won't take a side.
"I don't think we'd take a position on that," said Cheska Tolentino, a TWU Local 100 organizer in New York, whose union is still paying the price for a 2005 strike courts ruled illegal.
Occupiers began describing the action as a "general strike" only after some internal debate, with some participants warning that the planned action won't in fact live up to that disruptive expectation. The strike, referred to as "May Day," is expected to be the movement's largest action since the large-scale protests that caused such a stir in New York last fall.
Indeed, some Occupy organizers are starting to change the language in order to avoid the kind of anti-climax they've experienced in the past during multiple protests that didn't turn out the way they'd hoped (they couldn't, for example, prevent the closing bell from being sounded on Wall Street last November).
Even the occupiers themselves aren't totally clear on what the general strike will consist of without labor support, though organizers admit that the strike can only go so far without the unions striking.
"We do expect people to not work," said organizer Max Berger. "Just in terms of participation by labor organizations and mass people not working, we're realistic about where we're at and what 's possible."
Burke, who led security operations for OWS during the Zuccotti Park occupation, said that "I don't know if we have broad-based union support. We have a few unions that are with us. But I don't know about a national literal strike."
"Like everything else OWS, it's symbolic but it's also practical," Burke said.
Some occupiers downplay the importance of unions to their plans.
"Frankly there's not enough union people in this country anyway, so even if you made every union person strike, you still couldn't have everyone not working," said Jeff Smith, an organizer since the beginning of Occupy.
"It's about getting enough people to opt out of what their normal equation is," Smith said. "Even if you just stay home and watch TV, in some ways you'll have participated in this."
Occupiers are holding weekly marches on Fridays on Wall Street in the weeks leading up to May Day followed by meetings on Saturdays. According to organizers, the day itself will include direct actions – the details of which haven't entirely been ironed out – plus teach-ins and "pop-up occupations," said Burke. Protesters are being trained in direct action techniques culminating in a week of training in April that organizers are calling "99% Spring Training," an initiative whose online manifesto has been signed by a number of union heads as well as Van Jones and representatives of institutional progressive groups like Greenpeace and MoveOn.org.
And Occupiers in New York are already beginning to manage expectations.
"We want to change people's notion of what it means to strike," Berger said. "There are all different ways for people to not participate in capitalist system."
The model is, in part, the dramatic Occupy demonstrations in Oakland last November, which shut down one of the nation's largest ports amid violence between Occupiers and police. Occupiers there called for a general strike and didn't get one, but the nature of the shipping industry allowed them to wreak as much havoc as any Occupy branch has over the course of the movement's brief six-month lifespan so far.
But as in Oakland, the promised New York general strike appears likely to highlight the troubled relationship between Occupy and organized labor, whose unions have at times provided an organizational backbone and manpower to occupy demonstrations.
The difference isn't just one of tactics: Despite public expressions of solidarity, labor leaders say privately that they've been frustrated by their inability to build a long-term relationship with the leaderless movement. Instead, they're beginning to plan a day of protest later this year in support of the right to organize.
None of the union leaders BuzzFeed spoke with said they'd been contacted by occupiers about plans for a strike, a silence that has made the grand talk of a general strike even more puzzling to people whose members are familiar with picket lines.
"A general strike is a very specific thing," said Bob Master, co-chairman of the Working Families Party and the legislative and political director of Communication Workers of America District 1. "It's when all the workers in a city decide that they're not working. It's not when an outside group says, 'How about we stop working for a day because we've got a set of demands that you weren't part of formulating.'"