Occupy Protester Seeks Charges Against Gingrich Guard
She says he ripped her sign away and pushed her. Occupy protesters made a stir outside Gingrich event in Manchester.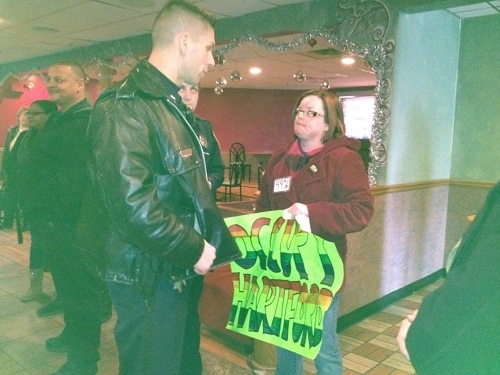 MANCHESTER, N.H. -- An Occupy protester at today's Newt Gingrich Latino town hall says that she will "press charges" against a member of the security team at the event. Rebecca Burton, 43, of Manchester Connecticut says that she was inside the event and holding a sign when a man approached her. He ripped her sign, took her by the arm and shoved her, she said.
"He said, 'get out, we don't want you here,'" Burton told BuzzFeed. "He didn't say who he was. I was inside the building peacefully holding my sign."
Police took Burton and the security staffer outside and interviewed them separately. Burton says she will definitely bring charges against the man, who refused to comment on this story.
Meanwhile, a Gingrich staffer was heard outside the event asking police to move a group of protesters who have assembled there, chanting and at times banging on the windows of the restaurant where the event is being held.
Gingrich's spokesman had no comment on the incident, which happened as Gingrich spoke to Hispanic voters at a town hall-style meeting at the Don Quijote restaurant.