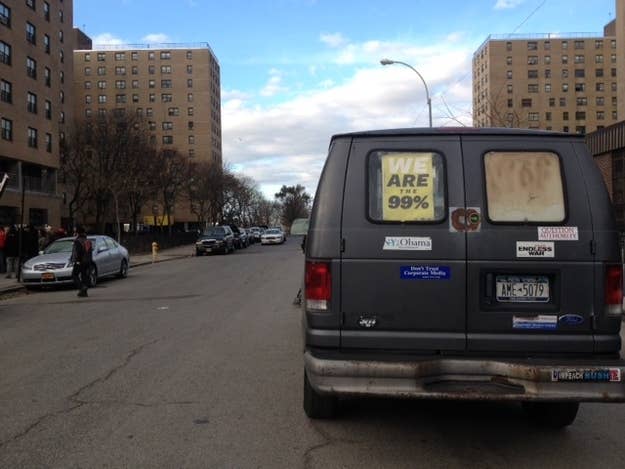 FAR ROCKAWAY, NY — The isolated Rockaways in Queens have faced some of the worst that Hurricane Sandy had to offer. Flooding has destroyed houses. The public housing projects that dominate the landscape have been left largely without power, and residents worry about the cold that's setting in. Their desperation looks like that of Staten Island or coastal Brooklyn, but maybe worse; drive down Beach Channel Drive, from the more affluent parts of the island to those less so, and people are straggling down the street, carrying empty carts and bags. Everyone's possessions are out on the street, cast out of ruined living rooms.
Occupy Wall Street, of all things, has reemerged as a vital presence in this grim scene. The Rockaways' depressed main artery is dotted with bright spots: volunteer stations manned by Occupy volunteers, whose Occupy Sandy organization has filled the holes that government agencies and charity organizations have been unable to in some parts of New York City. Nearly every day since the aftermath of the storm began, Occupy Sandy has been at St. Gertrude's Church and a few other spots in the area, delivering supplies in a van adorned with "99%" stickers, giving out food and clothing, and organizing canvassers to go to people's houses and offer help.
St. Gertrude's, on Beach 37th Street, bustled on Sunday afternoon. Volunteers stood next to clothing, food, and other supply stations, while others fanned out across the neighborhood on bikes or on foot in the neighborhood. A steady stream of people from the neighborhood gathered to collect supplies; some spontaneously thanked this reporter, assuming she was one of the volunteers.
"Yesterday, people were crying and saying 'God bless you,'" said a volunteer who gave her name as Denelle, who had been working in the Rockaways for the past few days. "Today it got a little crazy." She said that the demand for services was high, and it grew higher farther into Far Rockaway.
"Farther down there's less of a presence," she said, referring to FEMA and city government agencies. "We were doing some guerrilla volunteering, you know, just four of us in the car, down at Beach 8th Street. And the police said, 'You shouldn't be here, it's not safe for you."'
After months of failed attempts at a revival, interspersed with long periods of basically nothing, Occupy has found a crisis that is a surprising match for the capacities it developed as a flexible and sometimes amorphous focus movement and builder of tent cities, seeking at times to speak for the poor with no clear mandate from its would-be constituents. Now Occupy is working directly with the people it has tried to advocate for by protesting Wall Street banks. The generally white and upper-middle-class protesters have made other attempts to gain traction in disadvantaged neighborhoods, including a disastrous attempt to reappropriate a foreclosed home for a family in East New York. But the Occupy Sandy effort is doing real good in a situation where the needs are obvious and widespread. And the Rockaways truly need it. Problems run the gamut from hunger to cold to where voting will occur on Tuesday.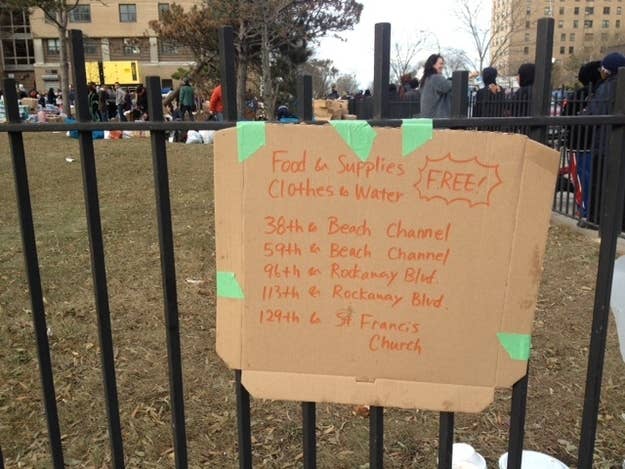 Volunteers looking to help out after Sandy have a large array of options, from the Red Cross to the New York Road Runners, but few are as clearly advertised and centralized as Occupy Sandy. The occupiers have set up a hub at St. Jacobi Church, in the south Brooklyn neighborhood of Sunset Park, and on Sunday it was packed with people inside and out. The basement of the church was full of volunteers making sandwiches, packing bags, and rushing around, and new volunteers were being registered outside. Volunteers can get there by hitching rides a couple times a day at a few predetermined Brooklyn locations in hip gentrifying neighborhoods like East Williamsburg or Clinton Hill.
A volunteer with a clipboard named Jenni said she couldn't even count how many people had come in to help. "They're all listed on stacks of paper upstairs," she said. Jenni, like many others, heard about the effort through Facebook and Twitter and decided to come down.
Once oriented and loaded up with supplies, volunteers share cars or bike to get to affected areas of the city like Coney Island or Staten Island. The operation bears few overtly Occupy hallmarks: a 99% sign could be seen at St. Jacobi, the stickers on the van, and the makeshift name tags volunteers made from duct tape.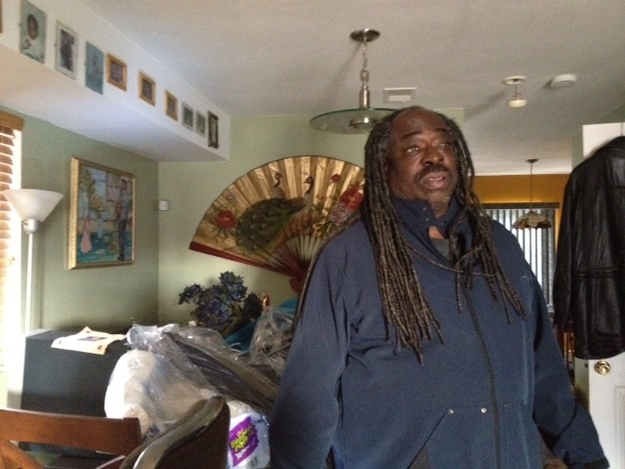 And the need in the neighborhood is unmistakable. Brian Smith, 55, works for New York's Fire Department Emergency Medical Service. His house on Beach 37th Street was deluged during Sandy.
"I was told it came up past my doorknob," Smith said. Inside the house, the refrigerator had been toppled by the water, there was a strong smell of gas, and his computer and TV were destroyed. Smith and his family have been staying with his mother-in-law in Jamaica, Queens. He came back on Sunday to wait for the insurance company and for FEMA, and is waiting for power and government help. "So far we don't have nothing."
Smith is worried, too, about where to vote on Tuesday, given that his usual polling place probably won't be up and running. So is Bonnie Daniels, an older resident of the Beach 41st Houses project, who was standing in line at one of the Occupy hubs on Sunday afternoon with an empty cart.
"We need to be made aware," said Daniels. She worried that people wouldn't be able to get to the polls because of the Rockaways' transportation issues. "It's a mess, with people being distracted with this," she said, gesturing towards the melee of people loading up on supplies around her. "And how are you supposed to know if you don't have Internet?"
"I think they can do better," Daniels said of the government's response to the storm. "You have to have a better plan than that, OK?" she said.
She was halted mid-sentence by a young, ponytailed Occupy volunteer offering a box of granola bars.
"Nutrigrain bars?" she offered.