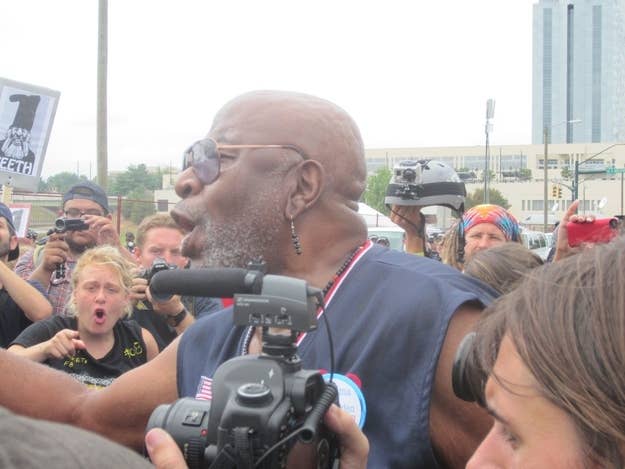 CHARLOTTE, N.C. — Protesters outside the Democratic National Convention on Tuesday got into a shouting match with an Obama supporter who got behind police lines and told the demonstrators they were "assholes" — and other, more racially charged epithets.
"Barack is your president," the man, Joseph Smith, said. "He is your leader." Smith, who wore a basketball jersey with "Obama" on the back, told BuzzFeed that he is in town because his wife is a California delegate. The couple are from Port Hueneme, California.
A protester shouted back, "I don't have a leader!"
Another protester shouted at Smith, "If you voted for Obama, you voted for all civilians to die!"
A scrum formed around Smith as he continued to engage the protesters, calling them "assholes" repeatedly.
He singled out two young male protesters and said to them, "We've always had house n***ers. There's two of them right there!"
The men appeared to laugh it off, and Smith left shortly afterwards.
A group of roughly 150 protesters had gathered on the intersection of South Caldwell and Stonewall streets, a short walk away from the convention center. Police formed three layers, keeping them from moving any closer to the convention, but the protesters were seen and heard by many attendees — which wasn't the case in spread-out Tampa.
The group included a number of occupiers from New York, some of the same ones who made it to Tampa for the Republican National Convention.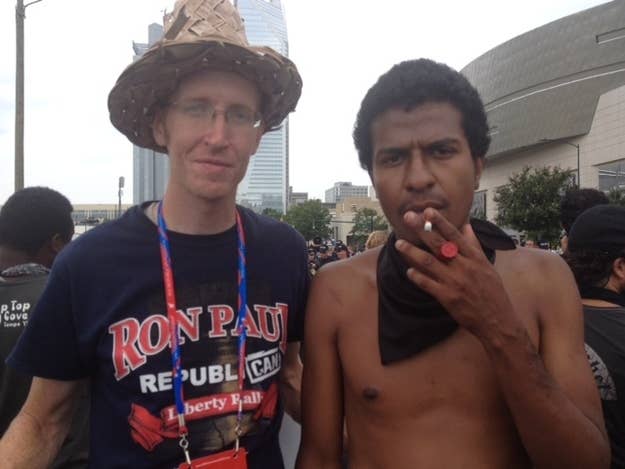 Anthony Robledo, an occupier from New York City, estimated that between 80 and 90 New Yorkers made the trip from Tampa to Charlotte.
Robledo said they could only get one bus for the trip, which he said was provided by "the union." Pressed as to which union, Robledo said the union in question was the United Federation of Teachers; a UFT spokeswoman in Charlotte did not return a request for comment.
Robledo said the protesters would now have to figure out their own transportation back to New York, which had thinned the number who were willing to go to Charlotte.
Bret Morse of Marion, New York, said that he'd gone down to Tampa for the Paul Festival and fell in with a group of occupiers. Morse went up to Charlotte with them.
"There's a few Ron Paul people here, though most people are more to the left," Morse said. "Hey, how would you describe the occupy people?" Morse asked Robledo.
"You've got those that want to reform, and those that want to abolish the state," Robledo said. He said he falls into the latter category.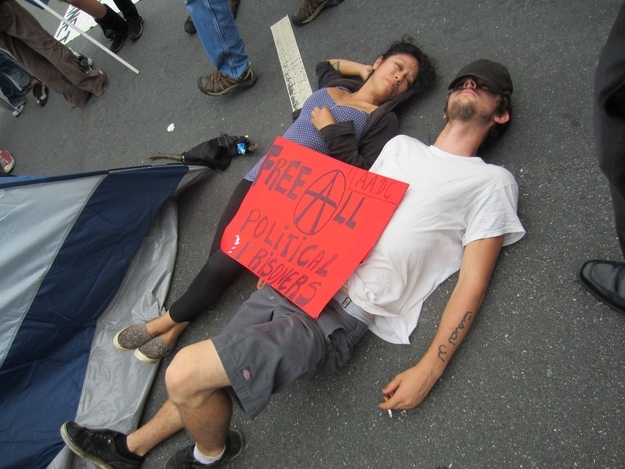 As of 2:30 p.m. Tuesday afternoon, the protesters were still sitting outside, in a standoff with the police who had effectively fenced them in. Some built a tent and waved in in the air, some sat on the ground defiantly in front of police, but the overall mood wasn't aggressive.
"We're not going to force our way over," Morse said.
"No," Robledo said, agreeing. "We're peaceful people."