The remark, which barely drew notice in America, is all over the Polish news today. On the country's largest television station: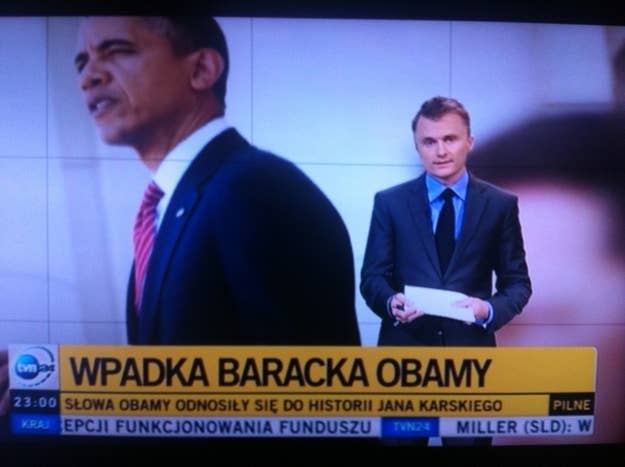 And on the website of Poland's leading daily, Rzeczpospolita: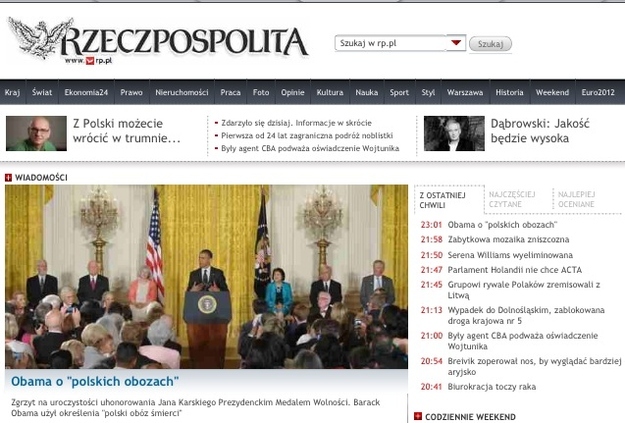 Related: a meme about Poland's Minister of Foreign Affairs Radek Sikorski, who might be in this scenario right now: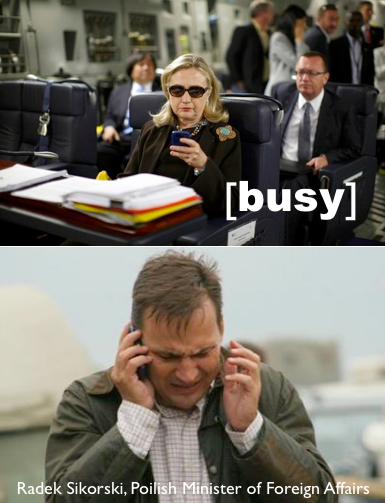 Reactions are starting to roll in from Polish politicians. First up, Adam Hofman, the spokesman for PiS, a major opposition party in Poland:
Translation: "A scandalous statement by President Obama. PiS will take
decisive actions in the morning."
UPDATE: Foreign Minister Radek Sikorski, a longtime pro-American voice, tweeted: "The White House will apologize for this outrageous error. [Prime Minister Donald] Tusk will make a statement in the morning. It's a pity that this important ceremony was upstaged by ignorance and incompetence."
Tweeted cabinet spokesman Pawel Gras, a close Tusk Advisor: "The Prime Minister asked the Minister of Foreign Affairs and the Polish Ambassador to the U.S. for full information regarding Obama's remarks."
UPDATE: National Security Council Spokesman Tommy Vietor tells BuzzFeed: "The President was referring to Nazi death camps operated in Poland. The President has demonstrated in word and deed his rock-solid commitment to our close alliance with Poland."
UPDATE: In a second comment, Vietor said: "The President misspoke - he was referring to Nazi death camps in Poland. We regret this misstatement, which should not detract from the clear intention to honor Mr. Karski and those brave citizens who stood on the side of human dignity in the face of tyranny."
UPDATE: Prime Minister Tusk says he's not satisfied with that apology:
The words uttered yesterday by the President of the United States Barack Obama concerning "Polish death camps" touched all Poles. We always react in the same way when ignorance, lack of knowledge, bad intentions lead to such a distortion of history, so painful for us here in Poland, in a country which suffered like no other in Europe during World War II.

For Poland and for our country, but also for all our fellow citizens, this is something that we cannot ignore. Here, in Poland, we cannot accept such words even if they are spoken by the leader of a friendly power - or perhaps especially in such situations - since we expect diligence, care, and respect from our friends on issues of such importance as World War II remembrance. In Polish-American relations, in friendly relations, respect vis-à-vis the smaller partner should be the most recognizable sign of such relations.

But this is not only an issue of justified sensitivity when it comes to Nazi German concentration camps which were placed on Polish soil in order to murder Jews, but also Poles and other nations. Today this is first and foremost the problem of America's reputation. We expect Americans to become involved - in particular in relation to this statement - in our efforts, in our measures which will enable us to eliminate, once and for all, these false phrasings, so immensely unfair for Poland.

Perhaps this is paradoxically a very good occasion for the U.S. administration, for Americans, and for the President of the United States to support Poland in its efforts towards historical truth, towards the correct phrasings, the right assessment of what happened during World War II on Polish territory and throughout Europe. This is also important for the United States, since American soldiers, too, died during World War II. If these were "Polish death camps," then at whose hands did American soldiers die? If these were "Polish death camps," then from whose hands did the uncle of the President of the United States liberate the Buchenwald concentration camp? When someone says "Polish death camps," it is as if there were no Nazis, no German responsibility, as if there was no Hitler - that is why our Polish sensitivity in these situations is so much more than just simply a feeling of national pride.

This truth about World War II is important and must also have importance for every other nation. I am convinced that today, our American friends are capable of a stronger reaction - a clearer one, and one which perhaps eliminates, once and for all, these types of mistakes - than just the correction itself and the regret which we heard from the White House spokesperson. We take note of these words, but it seems that it would be even more important for the United States than for Poland to end this with class. That is how one acts with regard to tried-and-tested friends, but this is also how one acts in your own, well-defined interest. I believe our allies are capable of such behaviour. Thank you very much.