Obama's New Top Foreign Policy Advisers Are Old Enemies
Samantha Power accused Susan Rice of letting the Rwandan genocide happen. Now Syria is the "problem from hell."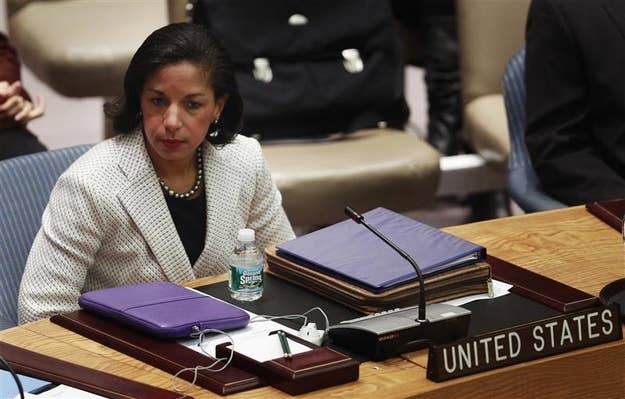 WASHINGTON — President Barack Obama's elevation of Samantha Power and Susan Rice to two top foreign policy posts brings two participants of the intense debates over human rights and intervention of the 1990s to today's debate over broadening atrocities in Syria.
Power, a former journalist and academic whose views were formed in the Balkan wars, cast Rice as an icon of the Clinton administration's Clintonian — as she saw it then — decision to allow mass slaughter to proceed in Rwanda in 1994.
Her book, A Problem from Hell: America and the Age of Genocide, and a 2001 Atlantic article that has much of the same material, includes a passage in which Power criticizes Rice for the way she avoided the word "genocide":
At an interagency teleconference in late April, Susan Rice, a rising star on the NSC who worked under Richard Clarke, stunned a few of the officials present when she asked, "If we use the word 'genocide' and are seen as doing nothing, what will be the effect on the November [congressional] election?" Lieutenant Colonel Tony Marley remembers the incredulity of his colleagues at the State Department. "We could believe that people would wonder that," he says, "but not that they would actually voice it." Rice does not recall the incident but concedes, "If I said it, it was completely inappropriate, as well as irrelevant."
Later in the piece, Power quotes Rice expressing regret over Rwanda, which Rice portrays as an experience that made her more interventionist.
Susan Rice, Clarke's co-worker on peacekeeping at the NSC, also feels that she has a debt to repay. "There was such a huge disconnect between the logic of each of the decisions we took along the way during the genocide and the moral consequences of the decisions taken collectively," Rice says. "I swore to myself that if I ever faced such a crisis again, I would come down on the side of dramatic action, going down in flames if that was required." Rice was subsequently appointed NSC Africa director and, later, assistant secretary of state for African affairs; she visited Rwanda several times and helped to launch a small program geared to train selected African armies so that they might be available to respond to the continent's next genocide. The American appetite for troop deployments in Africa had not improved.
Both women ended up strongly advocating for intervention in Libya, a move that was seen as a success (and that has some observers predicting a similar push now for Syria). They were also both early members of team Obama whose efforts seemed, at times, stymied by more forceful bureaucratic players. Power was largely ineffectual in getting the White House to pay attention to human rights, while Rice became embroiled in the Benghazi controversy after a series of Sunday show appearances in which she gave misleading information about the attack.
In December, a New Republic piece on Rice stated that the two women have since "become close," and that "Power says she sees a gulf between what her sources told her and the colleague she has come to know."
Power didn't respond to a request for comment. Rice's spokesperson Erin Pelton said, "Susan and Samantha have an excellent personal and professional relationship, having worked closely together on a daily basis for the first four years of the Obama administration to promote and defend U.S. interests at the U.N. As has been documented extensively, they also have deep respect for each other."
Though the move has been in the works for some time, Rice downplayed the rumors of her imminent replacement of Tom Donilon at an appearance in New York in March.
"I am the U.S. ambassador to the United Nations," Rice said at a panel with New Yorker writers. "I'm going to continue happily serving in that role as long as the president wants me to."
The president will announce Rice's appointment Wednesday afternoon, the White House has announced.